It's Here! One Small Life: Revival Adventures from My Fifty-Year Journal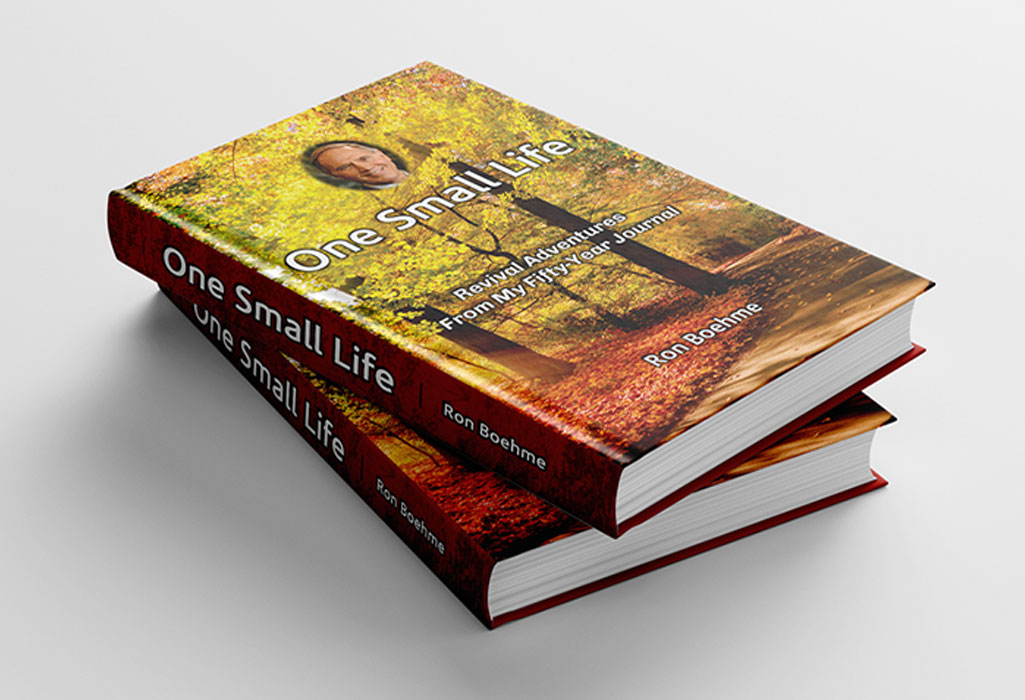 This past week after nine months of print preparation, my life story was published and some copies shipped to our door from Chicago, Illinois. 
I feel like the biggest literary "baby" of my life has been born–and I'm deeply grateful.
I never thought I'd ever write a book, let alone an autobiography. But two simple decisions at age 19 made it all possible. The result is One Small Life: Revival Adventures from My Fifty-Year Journal.
Here's the inside story and how you can get a copy.
One Small Life
John Wesley, the founder of the Methodist Church, was once asked how long it takes to write a sermon (he gave approximately 40,000 sermons in his amazing lifetime). His astute answer was: "It takes twenty-five years to write a sermon because it takes twenty-five years to make a man."
In other words, a meaningful sermon comes our of your life experience, wisdom, and character. It's not just a matter of jotting ideas down on paper or via a computer. 
That truth means it took seventy years for me to write this book. But two decisions I made at 19 set the stage.
I was studying the Bible and seeking God's plan for my life in the nation of New Zealand in 1972 when a wise mentor named Blythe Harper gave me some advice (story is told in the preface of the book). He said:
"Ron, I want you to practice two important habits for the rest of your life. First, read the Bible from cover to cover each year. Second, keep a spiritual journal of what God is doing in your life."
On October 30, 1972 I began reading the Bible through from Genesis to Revelation annually and taking notes on God's dealings and life happenings. Reading Scripture helped me know Him, his heart and purposes, and find my place in his Kingdom work. Writing down what He was doing in my heart, what I achieved in ministry (including the sights and sounds,) and both the failures and successes of life allowed me to "capture" my life story.
Three years ago, I took the journal (which after fifty years totaled 2400 pages), and worked two years to transcribe and format it. Then I took a year to choose the best stories and mold them into a 728 page, 35 chapter, nearly-one-million-words-story of my life.
I chose the title "One Small Life" based on C.T. Studd's famous poem whose chorus states: 
"Only one life 'twill soon be past. Only what's done for Christ will last."
I not only believe that truth (which is on a prominent plaque in my library), but want many others to live their "one small life" for Jesus and his Kingdom.
All because of grace–despite our human faults.
To attempt this large a project, I carefully studied Billy Graham's Just As I Am autobiography because I figured he and his team would set a standard of excellence in writing. I structured the book with seven sections, thirty-five chapters, an Index of People, Places, and Events, my Life Calendar, and Personal Principles (Values). 
Then we placed eighty photos in four sections throughout the book.
Here's an overview.
In Part One, I share my family history which included being members of the Lutheran Church "as far as the eye can see." I was born because of a "Lost Letter," then experienced "Twin Tragedies" (Chapter Two) which led to my personal faith in Jesus (Chapter Three – "It Only Takes a Spark"). 
Part Two contains my "Discipleship" years which included a first taste of missions in 1970 (Chapter Four – "Playing Basketball for God"), being delivered from a cult in New Zealand, and meeting Loren Cunningham when he was 37 at the Auckland YMCA (Chapter Five).
I was trained by YWAM at a Bavarian castle in Germany (Chapter Six) and "toured Europe, the Middle East in a BMW" on the amazing "Middle East Field Trip" (Chapter Seven).
Following much growth and outreach, I joined YWAM fulltime and met Shirley in a hometown revival (Chapter Eight), then launched into ministry (Chapter Nine) through the inspiration of Leland Paris (who wrote the Foreword for the book). Then came the "Renewal Team" and revival crusades (Chapter Ten).
Part Three of the book shares the story of the Renewal Team traveling to Washington, D.C. to help to serve/coordinate the Washington For Rally on April 29, 1980 (the largest prayer meeting in American history at the time–Chapter 11). Afterwards, we took the WFJ message "Around the World in Eighty Days" (Chapter 12). 
The Renewal Team then established YWAM Washington, D.C. and Virginia in the early eighties (Chapter 13) and my revival-evangelist ministry expanded. We also established "133 C Street" on the U.S, Capitol Grounds for sharing Jesus with our nation's leaders (Chapter 15).
In Part Four, I detail my greatest failure in ministry (death of a vision) and how our growing family experienced a "Hawaiian Healing" and then relocated back to Washington State where exciting new ministries came forth for decades (Chapters 18-20). 
In Part Five, I share the incredible "Revive America" years of taking the message of spiritual awakening to over two hundred cities and towns in forty states in the USA (Chapters 21-22). Then the King's Kids decade of the nineties which included being "rescued by a smoking angel" in Spain, ministering to Pope John Paul II at the Vatican, and the president of Chile (Chapters 23-24). Part Five finishes with our twenty-five work in Mongolia (including discipling a "bandit" and a "clown" — Chapters 25-26).
In Part Six, I discuss 30 years of involvement in the National Day of Prayer (Chapter 27), ministry at five world sporting events over my lifetime (Chapter 28), and teaching in Latin America on "La Cuarta Ola (Fourth Wave – Chapter 29). Chapter 30 describes the birth of YWAM Discovery Bay and ministering in China. 
In Part Seven, I explain how I ended up earning a doctorate and teaching at Faith International University (Chapter 32), and how Shirley and I cared for our aging parents (Chapter 33 – "Every Day at Four"). In Chapter 34 I discuss what I learned from other godly leaders that helped shape my life and work ("Walking With Wise People"). 
The final chapter shares reflections on revival, storm clouds on the American horizon and the world, and the vital message of the prophets–Jeremiah and Isaiah.
The book ends with great hope that is found in Jesus alone.
I am offering the book for free ($35-40 value) if purchased directly from me. In lieu of that, a flyer inside the front cover encourages readers to make a donation to "Backpacks for Kids" in my hometown or to Loren Cunningham's "Pray Oral Mother Tongue" YWAM project. All donations sent to me will be used exclusively for postage ($8.50 USPS media rate per book) and multiplying it to others.
One Small Life will be available on Amazon and in e-book format in November. An audio version in my own voice will be produced in December.
To order a personally signed hardback copy, please drop me a note at: YWAM, 6831 Arlington Pl. SE, Port Orchard, WA 98367. 
I share my story to inspire you to live your one small life for the glory of God. Each of us has unique divine assignments to fulfill during our short stay on earth. 
Thank you for helping make my life possible. I'm deeply grateful for your love and friendship. Always remember:
One small life will soon be past. Only what's done for Christ will last.