Incarnation: God's Love & Light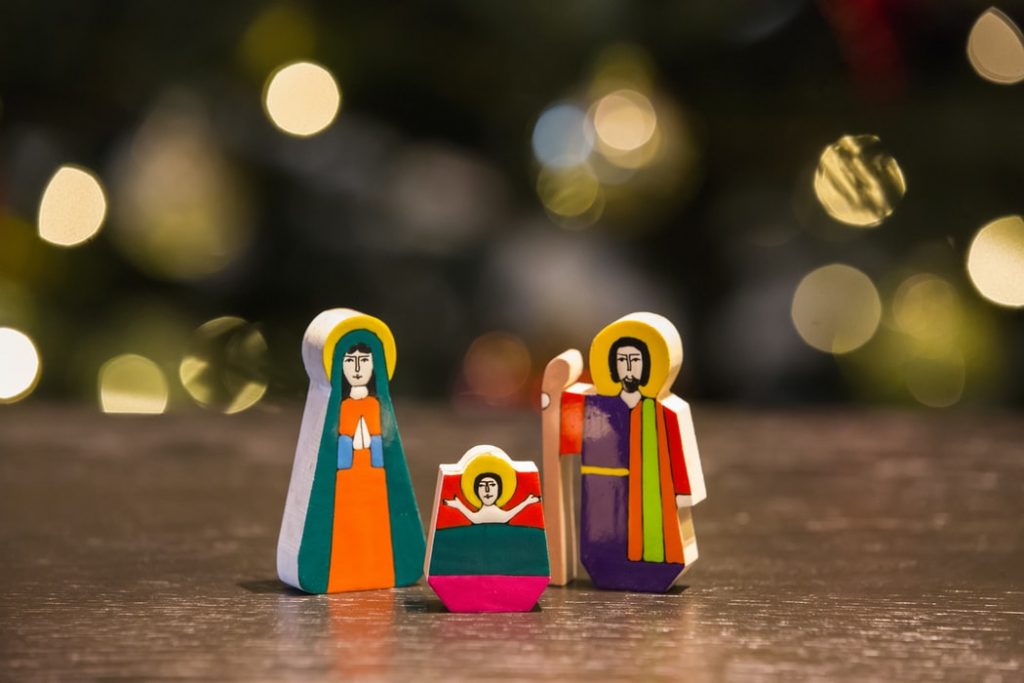 Darkness descended on the United States last week when the U.S. House of Representatives impeached President Trump on a party-line vote (with four Democrat defections).
It happened–despite any evidence of a crime–to nullify the votes of 63 million Americans in the 2016 election. It was a sad day for truth, democracy, fair elections and love and light.
Merry Christmas, America.
But the ugliness of this sin or all sins combined do not rank as the greatest power in the universe. This week we celebrate the awesome reality that will ultimately triumph in history.
The Incarnation of Jesus Christ: God's Love & Light.
The Amazing Incarnation
When I became a Bible teacher many years ago, I asked the Lord what were the most important subjects he wanted me to understand. Many things are important. But what stood above the pack?
God led me to ponder two complete opposites realities. The first was the subject of sin (selfishness)–not a favorite of most people–but vital to comprehend if you want to be saved from it and help others to escape.
The Bible contains many references to sin–why we do it, how to avoid it, and what God did to defeat it. In fact, the topic of sin is so immense that there are eleven words in the Hebrew language that describe it and seven in the Greek.
That's eighteen synonyms for one topic. God must want us to understand sin (so we can flee from it and its consequences).
The second and most important topic God showed me is the greatest of all time–the unfathomable, gracious and undeserved love of God which is the main theme in the Bible from cover to cover. God's Word is really a love story broken down into many amazing scenes that start in the Garden of Eden (Delightful) and ends up in the New Heavens and Earth where love the reigns forever (Revelation 21 & 22).
Here are some verses to remind you of God's love:
"I have loved you with an everlasting love; Therefore with loving kindness I have drawn you" (Jeremiah 31:3).
"For God so loved the world that he gave his only Son that whoever believes in him should not perish but have eternal life" (John 3:16).
"Let us love one another, for love comes from God. Everyone who loves has been born of God and knows God. Whoever does not love does not know God, because God is love. This is how God showed his love among us: He sent his one and only Son into the world that we might live through him. This is love: not that we loved God, but that he loved us and sent his Son as an atoning sacrifice for our sins" (1 John 4:7-10).
From start to finish, the Bible exudes a love story—the greatest one ever told. God—the maker of heaven and earth—is a loving being in his very essence (1 John 4:8). In fact, we learn from Scripture that, amazingly, the Godhead consists of three Persons in One Essence who love each other deeply and created humans to share in that love.
The triune God is the perfect example of all healthy and loving relationships. We were created in God's image to love and be loved in return.
Love is our greatest need and desire.
For example, it hurt deeply when my mother passed away in 1962 or when my father went to prison in 1967. Love died. Decades of married love to my wife, Shirley forms my greatest gift on earth—love blossomed. We care for our children and delight in close relationship to them–love multiplied through their addition to our family.
No wonder the vast majority of human songs ever written speak glowingly or hauntingly of love–either its joyous fulfillment or its devastating loss.
We yearn to love and be loved. Why? Because God created us for loving friendship—with him and other human beings. But sin (the other devastating truth) broke that loving relationship. The friendship needed to be restored—which God took the initiative to do.
This is the Bible's consuming message: God longs for all people to come back into a loved-filled relationship with him.
To accomplish that, God did the most unthinkable thing in the history of the cosmos. He decided he would come to earth in human form to provide a way for people to know his heart.
Whereas the devil appeared as a serpent to drag man down into the dirt of unbelief, God wanted to do the opposite to elevate human beings up to saving faith.
But to do it, God must become man to reveal his true heart—face-to-face. We call his coming the Incarnation–God with us.
The coming of Love and Light.
Here's the epic story we celebrate today.
In the year 6/5 B.C., a young virgin named Mary and her carpenter husband, Joseph, wearily trudged down the dusty roads of Palestine from their village of Nazareth to Joseph's hometown of Bethlehem—as required by a new Roman census. They arrived after dark and were forced to stay in a humble stable.
Four hundred years had passed since the collapse of the Jewish nation. That night Mary would give birth to her first son, while unbeknownst to her, shepherds would shake with fear as angels sang from heaven and certain Magi (Eastern astrologers known as "wise men") searched for the most important birth in the history of man.
Mary's son—later known as Jesus Christ (Salvation–Anointed One or Messiah)–remains the most significant person in history. The message of the Bible's New Testament (New Covenant) boldly proclaims that God loves people so passionately that He left the splendor of Heaven and came to earth in human form (Galatians 4: 4,5).
His great love story—from Adam and Eve, through Abraham, Moses, and the nation of Israel required a final solution. Animal sacrifice was temporary. The moral laws of love only described proper God-man and person-to-person relationships. But human beings had sinned, separating themselves from God and his love.
Enter Jesus of Nazareth—God-in-the-flesh (John 1:14)—the second member of the trinity. His Incarnation–from Creator of the universe to tiny baby in Bethlehem–is the greatest story that ever could be imagined or expressed.
That why Christmas is celebrated by 75% of the world. There is nothing like the reality of God coming to save the world.
He did it by dying–thirty years after his birth.
The Cross of Jesus Christ substitutes the sufferings of God in the place of our punishment for living selfish lives (sin). It atones (covers) the gap between God's holiness and our moral filth.
All God asks is that we accept his love gift by dying to selfish living and trusting in his power to change and save us (Mark 1:15).
That message of love has gone around the world the past two thousand years bringing 2.5 billion people–33% of the world's population–back into loving friendship with God.
There are already myriads of redeemed people in the presence of God (heaven) who've been reconciled by his grace. But 5.3 billion people still remain on earth who should be given a chance at being reconciled to God.
America has entered a season of political darkness. Much of the world sits in similar circumstances via the ocean of lies covering the earth.
But God's love continues to explode and will eventually conquer all.
This Christmas take time to believe–and do your part to see darkness and despair dissipate through the light and love of Jesus Christ (John 1:5).
Merry Christmas.