Alice Cooper Comes Home to Jesus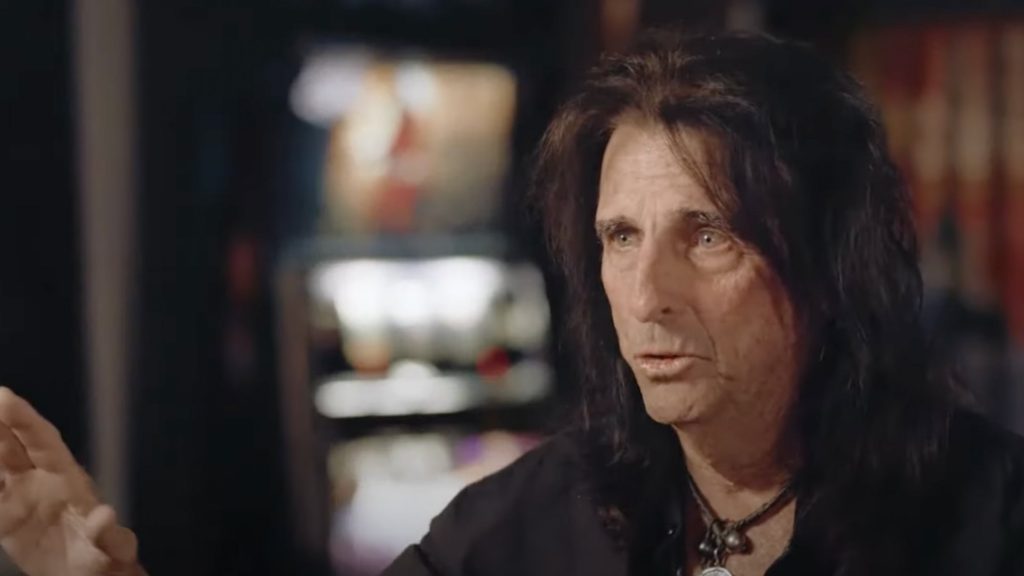 I remember two famous "Coopers" in my youth. D.B. Cooper hijacked an airplane and "parachuted out" in my home state never to be heard from again. The other was Alice Cooper, a guy with a weird name who became a legendary rock star.
I hadn't thought of Alice Cooper for many years when a friend of mine splashed a headline that made my heart sing.
Here is a thanksgiving story about how Alice Cooper came home to Jesus.
Alice Cooper Comes Home to Jesus
Some years ago, I became friends with Ted Baehr while serving together on some national boards. Ted knows the rock star/movie star scene well after serving as a child actor in Los Angeles then launching Movieguide in his adult years to expose bad media and promote the good.
If you aren't signed up for Movieguide,  you can get it here. Ted keeps it mainly positive on what God is doing in the entertainment world.
Hollywood (including singers) has been an object of my prayers for years. It's productions and people lead the world in cultural trends–much of it for evil. In fact, if Washington, D.C. is the male head of the nation (seat of authority) then Los Angeles/Hollywood serves as the female head of the country (place of greatest influence).
A few years ago, I participated in a National Prayer Committee meeting in Hollywood where we did prayer walks on Hollywood Boulevard and previewed a movie at a major studio. In January, the National Prayer Committee will once again be having its winter meeting–in Hollywood.
Ted Baehr–recently published Alice Cooper's story of his return to Jesus. 
Here's the background.
Vincent Damon Furnier, who became Alice Cooper, was born in 1948 in Detroit, Michigan. He is considered the godfather of shock rock. He used his raspy voice and numerous props and illusions including pyrotechnics, guillotines, electric chairs, fake blood, reptiles, baby dolls and dueling swords to draw audiences into the world of darkness. 
No performer in the history of rock (other than KISS who often performed with Cooper) drew more people into gruesome evil through music and performances. His first solo album in 1975 was entitled "Welcome to My Nightmare." Promoting evil for a lifetime, Alice Cooper took in $50 million dollars from gullible followers.
Then he met the God of justice and love who brought the prodigal home.
Movieguide tells the story.
"The Real Prodigal Son: Alice Cooper Shares His Testimony"
Published by Movieguide – October 29, 2021 (Above photo from Greg Laurie's Instagram)
Although famous rock 'n' roll star Alice Cooper grew up in the church, he strayed from his Christian roots over his fifty-year career as a performer.

However, after living the rock 'n' roll lifestyle, Cooper felt empty.

"I grew up in a Christian household," Cooper told NBC News in 1996. "My dad was a pastor and he was an evangelist for twenty-five years. I used to go up and do missionary work with him with the Apaches in Arizona. My grandfather was a pastor for seventy-five years… My wife's father is a Baptist pastor, so I always refer to myself as the real prodigal son because I went out and the Lord allowed me to do everything and then just started reeling me back in.

"When you get out there you realize that you've had every car, you've had every house and all that, you realize that that's not the answer, that there's a big big nothing out there at the end of that," he added. "Materialism doesn't mean anything. A lot of people say that there's a big God-shaped hole in your heart and when that's filled, then you really are satisfied. I think that's where I'm at right now, I'm very young in the faith even though I grew up in it."

A significant part of Cooper's testimony was his fight for sobriety after his wife, Cheryl, threatened to leave if he did not quit drugs and alcohol.

"After about two weeks, Cheryl had gone to Chicago and said 'I can't watch this.' But the cocaine was speaking a lot louder than her," Cooper told Greg Laurie in a recent interview. "I looked in the mirror and it looked like my makeup, but it was blood coming down, I think, I might have been hallucinating.

"I flushed the rock down the toilet and went to bed for three days, and I woke up, and I called her and I said, 'It's done,'" he recalled. "She goes, 'Right, you have to prove it.' That was the beginning of our relationship coming back.

"One of the deals was we start going to church," he continued. "I was a poster boy for everything wrong and then when I got sober and came back to the church, I realized that's where I belonged."

Cooper said that both the doctrine of God's justice and Jesus' sacrifice helped him come to Christ.

"I came to Christ because of my fear of God," he confessed. "I totally understood that hell was not getting high with Jim Morrison, hell was going to be the worst place ever. In fear I came back to the Lord, but I went to another church and that pastor preached the love of Christ, which, now you put the two together, and it was exactly right."

Cooper noted that his lifestyle immediately changed after his salvation.

"I knew that there had to either come a point where I either accepted Christ and started living that life or if I died in this, I was in a lot of trouble and that's what really motivated me," he said. "I don't think we accept Christ. I think we accept the fact that He accepted us."

"You can't put that into words," he added. "It's because God opens your eyes and it's supernatural. When the Lord opens your eyes and you suddenly realize who you are and who He is, it's a whole different world."

Even after Cooper's salvation, baptism, and getting plugged into his church, he felt like he had to give up on his career as Alice Cooper, the rock star.

"I went to my pastor and I said 'I think I got to quit being Alice Cooper now,' and he goes, 'Really? Do you think God makes mistakes? Look where he put you, he put you in the exact camp of the philistines and you were basically the leader. Now what if you're Alice Cooper but what if you're now following Christ, and you're a rock star but you don't live the rock star life? Your lifestyle is now your testimony.'"

In a 2006 interview, Cooper explained why he continued to pursue his career in rock 'n' roll as a Christian.

"Christianity is basically a one-on-one relationship with Jesus," he said. "If you're a disciple of Jesus… [it] doesn't say anywhere in there that I can't be a performer. It doesn't say anything in there that I can't be an artist.

"I don't do Christian rock, but I'm a Christian that does rock," he added.
I read the story of the Prodigal Son (Luke 15:11-32) in my daily devotions this week. It contains an incredible message of the futility of sin, a man "coming to his senses" in repentance (change) and going home where his father (symbolizing our Heavenly Father) welcomes him with open arms and a heart of mercy.
Do you know some prodigals? Do you share God's heart for them in your prayers? 
Then be encouraged. Alice Cooper came home to Jesus.
They can too.