Face of Satan Rising: Persecuting Christians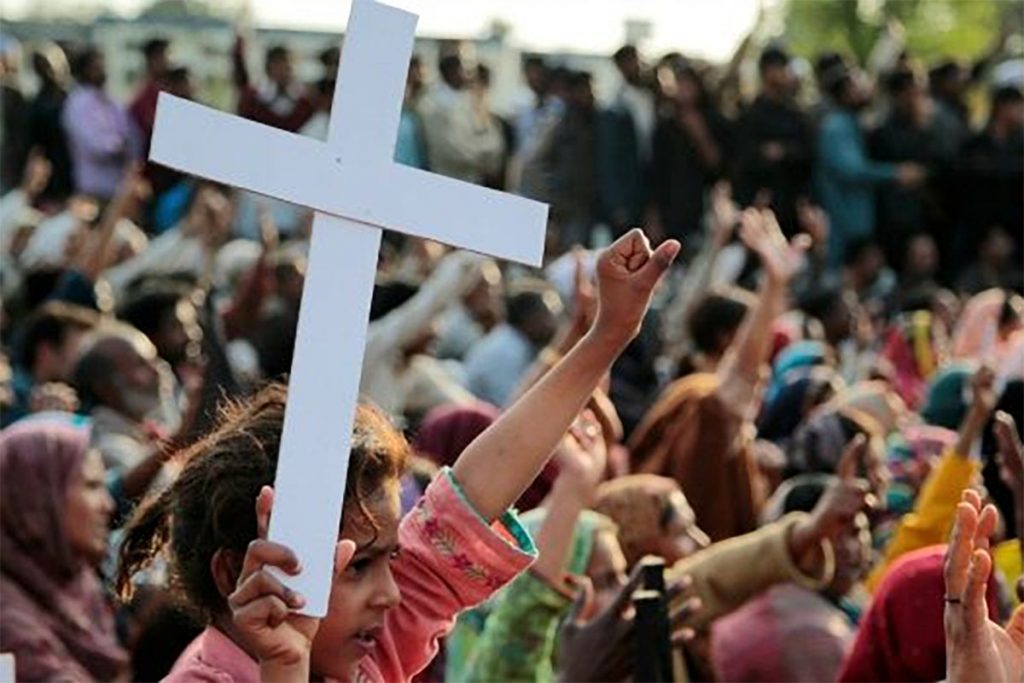 This week's savage attack on Christians in Sri Lanka is a sobering reminder of Satanic brutality in our world.
That hatred has always been present–since the serpent deceived in Adam and Eve millenniums ago.
But, with nearly eight billion people alive today, 2.5 billion identifying as Christians, the global amplification of the media, and Christ's return possibly on the horizon, persecution appears to be increasing.
Will it get worse? Is revival coming? Or both?
What should we do when we see the face of Satan rising?
The Face of Satan and Revival
It was Jesus who warned that Lucifer and his demons formed the ultimate source of violence in the world. He said:
"The thief comes only to steal and kill and destroy; I came that they may have life and have it in abundance" (John 10:10).
Quite a contrast.
Satan wants to destroy people–Jesus came to save them (what we recently celebrated at Easter).
I believe that all hatred and violence emanate from the satanic realm –be it murder, suicide, school shootings, workplace violence, Neo-Nazies (such as the recent mosque-bombing in New Zealand) or Islamic jihad (Sri Lanka and many others).
Demons deceive humans to hurt others.
Because Satan hates Jesus, most of these attacks are aimed at Christians. Satan will punish anybody, but killing a "redeemed soul" seems to be his special ghoulish delight.
Persecution of Christians has been his goal from the Early Church until today (remember the Roman Coliseum?). There's just more of us now and Satan's time might be short.
Hence a new-found brazenness for showing his true face.
Soon after the Sri Lanka massacre of Christians in churches and tourist hotels, Michael Snyder identified the trend:
"The bombings in Sri Lanka have once again put a spotlight on the rising tide of violence against Christians all over the world. According to Open Doors USA, an average of 105 churches and/or Christian buildings are burned or attacked every month."
"That is more than three per day, and almost all of those attacks get ignored by the mainstream media in the western world. In addition, an average of 345 Christians are killed for faith-related reasons every single month."
If you want learn more on 21st century Christian persecution, click on the Open Doors website here.
The response to the Sri Lanka massacres by various leaders was enlightening. Barack Obama and Hillary Clinton tweeted after the attack. Both call themselves Christians, but seem reluctant to use the word.
Barack Obama: "The attacks on tourists and Easter worshippers in Sri Lanka are an attack on humanity. On a day devoted to love, redemption, and renewal, we pray for the victims and stand with the people of Sri Lanka."
Hillary Clinton: "On this holy weekend for many faiths, we must stand united against hatred and violence. I'm praying for everyone affected by today's horrific attacks on Easter worshippers and travelers in Sri Lanka."
Easter worshippers?
Ben Shapiro explains, "Not only was it notable that Obama and Clinton both used the term 'Easter worshipers' in their reactions, but it was highlighted that both were sure to use the word 'Muslim' in responses to the horrific slaughter of Muslims in a New Zealand mosque last month."
"Suicide bombers targeted churches and hotels on Sunday in Sri Lanka as Christians started their Easter festivities. The death toll has risen to 321, including citizens from the United States, and some 500 others suffered injuries."
Douglas Golden of the Conservative Tribune: "I'll note two things here. First, we can probably guess that these individuals weren't targeted because they went into a church on Easter. They were targeted because they were Christians. That makes naming the religion somewhat important— if just to make plain the impetus behind the inhumanity in this inhuman act."
"Second, this is the kind of embarrassment that the left shows when it's dangerously uneducated on issues of the Christian faith. In one newspaper — The New York Times — over the over the past week, we've seen Easter described as "the celebration of the resurrection into heaven of Jesus."
"And that's a whole left-leaning newspaper, not just one individual. Even the individuals I mentioned, however, would know better than to identify Jews as 'Yom Kippur worshippers' or Muslims merely as 'mosque-goers.'"
"Why is it, therefore, they refuse to even speak the name of our nation's largest religion?"
Deception or ignorance.
God's people (Jews and Christians) have always been the prime target for satanic destruction.
Interestingly, one of the least religious presidents in history–Donald Trump–does tell the truth about Christian persecution.
Zachary Halaschak writes: "White House acting chief of staff Mick Mulvaney said on Tuesday a little known fact about President Trump is that he often brings up Christianity when meeting with foreign leaders."
"'I can assure you that I have been sitting with him in the Oval Office, in the Cabinet Room, with leaders from around the world where he will look at them and say, 'Now, you're not doing enough to take care of the Christians in your country,' or, 'Thank you for helping the Christians in your country.'"
"'That is heavy stuff, and it strikes me it's probably something that hasn't been articulated in the Oval Office in way too long,' he added."
Our current president, despite his gruff personality and past sins, understands that believers in Christ are the biggest targets in today's world for hatred, violence and death.
So should we.
The persecution of Christians is rising because Satan is showing his true face. Some leaders get it and others dance around the edges.
What does the future hold?
The Bible is clear that persecution and death are not only norms for followers of Jesus, but that persecution will escalate during the Last Days prior to His Return (Matthew 24, Mark 13). Many biblical leaders believe we are nearing that event.
Others believe that a great world revival will take place before Christ comes back for His Church. Millions, or even billions, will be saved.
Which is it?
I believe both. As the true face of Satan increasingly shows itself against God's people, persecution will increase–maybe even explode. At the same time, God's heart to bring multitudes into His glorious Kingdom of love and light, will ignite world-wide revival.
Think of the parable of the wheat and the tares (Matthew 13:24-30). Huge harvest of the righteous (those who love Jesus) and great persecution due to satanic hatred and disgust.
What should we do?
Let's learn from Open Doors.
I met Brother Andrew, the founder, in the early seventies. God gave him a vision to care for suffering Christians worldwide. A New Zealand mentor of mine, Roly Houghton, served as director of Open Doors NZ and did extensive work in China.
Both on-line and in print, Open Doors publishes some of the best information in the world on Christian persecution. Their "World Watch List 2019" describes the fifty countries where it is "most dangerous to follow Jesus." (That's the worst 50 out of 200 countries total.)
North Korea is number one. Sri Lanka is number 46. India entered the top ten in 2019 and China moved up 16 spots from 43 to 27.
I set aside one day a week (Tuesdays) to pray for the persecuted Church. Those prayers may include the United States someday. I also set aside Fridays to pray for revival–and long for it.
Please order the "Worldwide Watch List" (either on-line or in print) and set aside your prayer day. Praying weekly or regularly is crucial because "out of sight is out of mind."
The face of Satan is rising. Expect it–and pray for comfort and grace for those who suffer–along with an even greater end-time harvest of salvation.