National Day of Prayer, May 2, 2019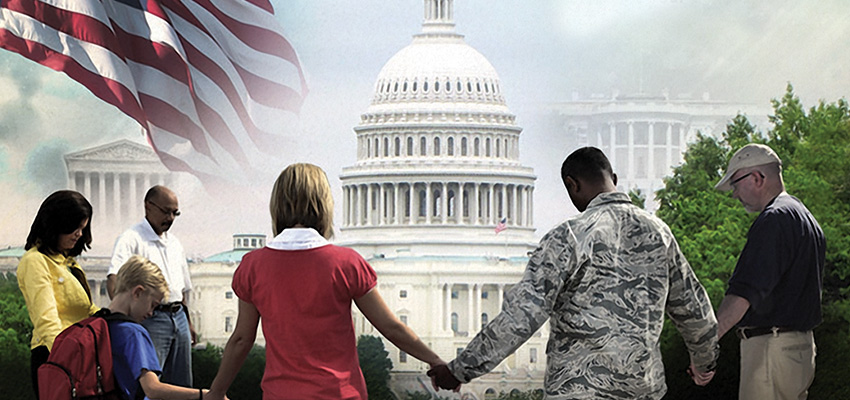 The National Day of Prayer is a special day in American life:
It focuses on God, the most worthy and wonderful Being that exists.
It highlights the destructive nature of sin in our personal and national lives and our need for God to "hear from heaven, forgive our sins, and heal our land" (2 Chronicles 7:14).
It calls us to the greatest power on earth: prayer.
I hoped to be in our nation's capital for the National Day of Prayer on May 2.  I've been there 29 of the last 31 years. But family-needs caused me to cancel my trip and pursue a new course.
Each of us can pray where we are (bloom where we're planted).
The National Day of Prayer
Up until my twenties, I'd never heard of a national day of prayer. Three reasons come to mind for my ignorance.
First, up until the 1980's, national days of prayer were irregular each year. Second, the spiritual history of our nation was being removed from the classrooms–even in the 1960's. Finally, prayer not was really a priority in my life.
That changed when I became a committed disciple of Jesus Christ and learned that prayer was the greatest power on earth. When we talk to the God of the universe and intercede for His interests and glory, then amazing can things happen.
In fact, I often tell people that prayer is the greatest gift you can give to another person. Why? Because prayer invites the omnipotent and loving God of the universe to work in another person's life.
Is there anything greater than that?
Prayer's benefits include God saving us from ourselves–from eternal separation from God to the blessings of eternal life. It can bring healing, both emotionally and physically. God's answers to prayer help direct our lives, enlighten our minds, touch our hearts, build loving relationships, and give hope and purpose to life.
I've experienced all of these things–and so have many of you.
All in answer to prayer.
In 1979, Shirley and I found ourselves in the nation's capital serving the biggest prayer meeting (at that time) in American history. Our twelve-member team spent an entire year laying the groundwork for Washington For Jesus on April 29, 1980.
On that day, 700,000 people came to Washington, D.C. for a twelve hour prayer meeting–from 6 am to 6 pm–in the center of the Washington Mall.
I believe I was born for that moment–a prayer meeting. As a result, six months later the Reagan Revolution swept into the city and nation bringing "Morning in America" and many aspects of cultural renewal.
I have seen God answer prayers in my own life–and also hear the prayers of a nation.
Then I learned of the National Day of Prayer.
Bill and Vonette Bright, the founders of Campus Crusade for Christ (now CRU), knew that America experienced many days of prayer in her history (from 1775 onward). But no groundswell of participation had occurred because there was no fixed day. They were random. People couldn't plan for the event because it changed every year.
The Brights set out to change that.
At the time, Youth With A Mission owned a building on the U.S. Capitol Grounds where we maintained offices after the Washington for Jesus event. The Brights asked if they could use its close proximity to all the Congressional offices to lobby Congress to establish a set day each year for the National Day of Prayer.
We agreed and began to work with them on the project. After a few years of consensus building and persuasion, and especially the support of Senator Bill Armstrong of Colorado, in 1988, Congress passed Public Law 100-307, calling on the president to issue each year a proclamation designating the first Thursday in May as a "National Day of Prayer."
That's why I've gone to our nation's capital most years since 1988 to join in the festivities.
This year the D.C. prayer events include:
National Prayer Committee meetings that started Tuesday, attended by many national leaders of various movements.
Vice President Mike Pence speaking at the Museum of the Bible Wednesday night (tonight), sharing his faith and what God is doing in the current administration.
Thursday afternoon kicks off with a city-wide celebration on the west lawn of the Capitol Building led by good friend and head of Together in Ministry, Dr. Corinthia Boone.
Thursday's capstone event takes place in Statuary Hall in the Capitol Building where every domain of American life will be prayed for by people from around the nation.
Friday morning's Christian Solidarity meeting at the Israeli Embassy will generate prayer for our two nations.
Since I couldn't be there this year, I decided to schedule something here at home.
I've enlisted the support of the staff and professors at Faith International University to hold an eight-hour prayer watch in Tacoma, Washington. We will share in a corporate prayer gathering at the college from 1:30 – 2:00 pm (same time as the Washington D.C. city-celebration).
The theme of this year's event is "Love One Another." Only prayer can bridge the divide which currently engulfs our nation.
Every year since 1988, American presidents have issued proclamations for the National Day of Prayer. Here is President Trump's 2019 edict:
"Americans have always found power and unity through prayer.  Today, on this National Day of Prayer, we once again come together to give thanks to Almighty God for the bountiful blessings He has bestowed on our great Nation and to ask for His unfailing counsel.  We also acknowledge our dependence on God's love to guide our families, communities, and our country away from harm and toward abundance and peace."
"Our Nation acknowledges that religious liberty is a natural right, given to us by our Creator, not a courtesy that government extends to us.  The First Amendment recognizes the freedom of religion and safeguards this right against government infringement.  The United States' steadfast commitment to upholding religious freedom has ensured that people of different faiths can pray together and live in peace as fellow American citizens.  We have no tolerance for those who disrupt this peace, and we condemn all hate and violence, particularly in our places of worship."
"Throughout our Nation's history, Americans have consistently turned to God for guidance at pivotal moments.  In 1775, the Continental Congress first declared a day of prayer, asking American patriots throughout the colonies to pray in earnest for divine help in forming our Republic.  Seventy-five years ago this June, President Franklin D. Roosevelt led the Nation in prayer as courageous Americans stormed the beaches of Normandy on D-Day.  He prayed:  'Almighty God:  Our sons, pride of our Nation, this day have set upon a mighty endeavor . . . Lead them straight and true; give strength to their arms, stoutness to their hearts, steadfastness in their faith.'  Today, we also pray for strength for our Nation and our Armed Forces as we face new challenges at home and abroad."
"Our Nation's honored tradition of prayer has sustained us and strengthened our trust that God will continue to watch over and accompany us through the best of times and the darkest hours.  May we as Americans never forget the power of prayer and the greatness of our Creator.  On this National Day of Prayer, let each of us, according to our own faiths, call upon God for His guidance and express our gratitude for the love and grace He bestows on us and our country."
"NOW, THEREFORE, I, DONALD J. TRUMP, President of the United States of America, by virtue of the authority vested in me by the Constitution and the laws of the United States of America, do hereby proclaim May 2, 2019, as a National Day of Prayer.  I invite the citizens of our Nation to pray, in accordance with their own faiths and consciences, in thanksgiving for the freedoms and blessings we have received, and for God's guidance and continued protection as we meet the challenges before us."
Amen.
If you read this by Thursday, pray where you are on our National Day of Prayer. Maybe next year you can help inspire a prayer gathering at your church, school, or city-wide.
Bloom where you're planted–while spreading the fragrance of prayer everywhere you go.