The Caravan: Our Journey From Compassion to Political Tricks and Open Borders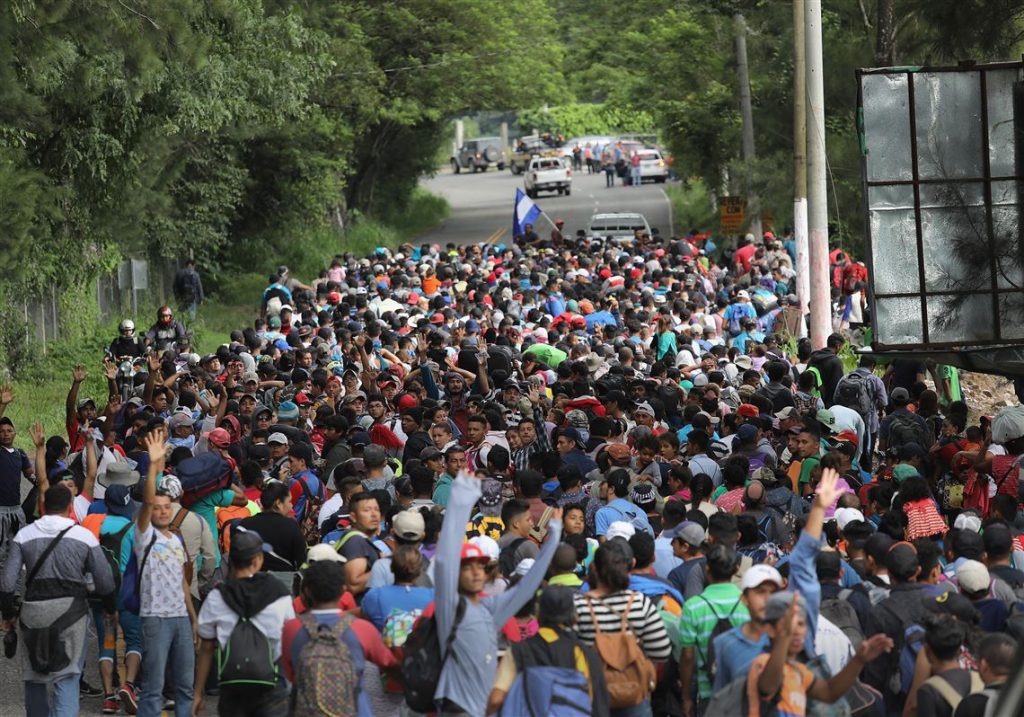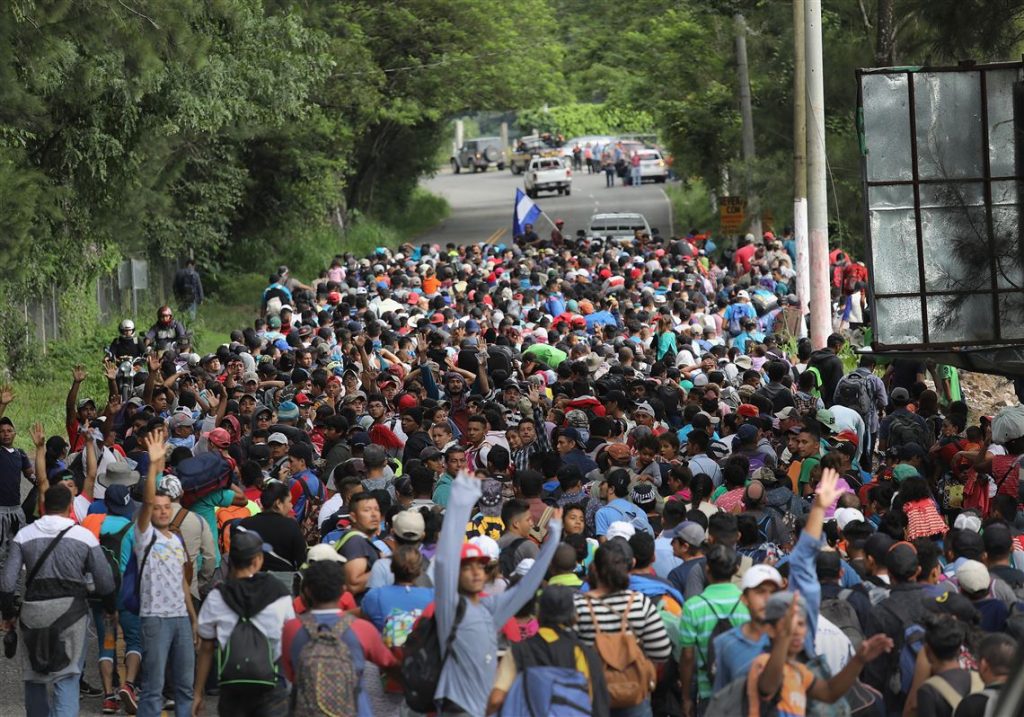 A "Caravan" of asylum seeking immigrants are currently making their way to our southern border. Most of these people are from Central American countries where they say poverty and other issues are forcing them to flee northward. Others are coming from other nations, gangs and backgrounds.
The march is not spontaneous. Someone is financing it. It's occurring right before a crucial mid-term election in the United States.
I don't remember these scenes when I was a kid. In those days we believed in national  borders, compassion for the less fortunate, and fair but hard-fought political battles.
The Democrats have told their candidates to be silent about the matter (but hope for more votes). President Trump has warned  that they will not be able to enter the United States. A clear majority of voters agree with the president.
So how did we go from compassion to political tricks and open borders?
It doesn't take a genius to see that the "caravan" is clearly a political ploy because of the money behind it and the mid-term election timing. It takes hundreds of thousands, if not millions of dollars, to move masses of people thousands of miles. Secular political groups (George Soros money?) are obviously funding the caravan. Poor people can't march and feed themselves over thousands of miles.
Then, the timing. Central America countries have been poorer than their northern neighbors for hundreds of years. No wars have sprung up recently. So, the "image" of thousands trying to come to America is clearly a strategy to embarrass the United States government and try to influence the 2018 mid-terms.
It's easy to smell a political rat (or rot).
Then, there's the issue of open borders.
OPEN borders? That's an oxymoron. Have you ever heard of such a ridiculous and destructive idea as a nation not protecting its God-given boundaries (Acts 17:26) for the good of its citizens? The very role of civil government is to exercise justice against law-breaking (like bullying your way through a border).
Clearing away national boundaries is as stupid as a homeowner in a city taking the locks and doors off his house and inviting anyone and everyone to come use the refrigerator, sleep on the beds, and take anything they want.
Open anything is dangerous in a fallen world. Reject any politician who even whispers "open borders" into the wind. It's really a dog whistle for "One World Government."
Open borders define one of the cultural war battle fields. Secular/socialist/atheist devotees don't believe in the fallenness of human beings and their ability to screw things up. Biblical-based folks do. They know that God created governments to protect us from evil–from our uncontrolled selves.
I'm currently reading the number one best-selling book in America, Bill O'Reilly's latest called Killing the SS: The Hunt for the Worst War Criminals in History. It contains powerful lessons on how godless people can take control of the levers of government and destroy whole societies through political deception and "openness" nonsense.
I visited the German concentration camp in Dachau in 1974. A sign at the front proclaims, "Never Again." But that message speaks a lie if we let God-denying forces manipulate public opinion and cause chaos in our nation. We're not experiencing full-fledged Nazi evil at the moment (with the exception of the abortion holocaust), but it's right around the corner if political insanity prevails in our day.
And compassion? For over 200 years America stands as the most compassionate and generous nation in history in money given, humanitarian aid disbursed, legal immigrants accepted, asylum seekers embraced, and people serving people–including missions. And we can do more.
We've also rightly understand–due to our Judeo-Christian roots–that compassion is not the business of government. It falls in the realm of churches and synagogues,  private associations and businesses, and the work of the caring individuals and families. The role of government is to maintain order and justice (Romans 13:1-7)–allowing free and prosperous people to tend to the needs of the hurting and displaced. When those roles are blurred, people are unrestrained and suffer.
Ben Shapiro in the Daily Wire shares some common sense about the "caravan:"
"Just because there are millions of people across the world who would love to enter the United States for purposes of finding work does not mean that the United States has either the resources or the responsibility to open its borders to all comers. As a libertarian on the flow of labor, I have no problem with people coming to the United States to work – but there are obvious economic costs associated with unchecked illegal immigration in a welfare state."
"Furthermore, the failure of the United States to assimilate new immigrants has increased radically in recent years with the rise of a multicultural ethos on the political Left. To suggest that the United States leave its borders wide open to anyone wanting to enter is to suggest national suicide, as it would be for any nation."
He also proposes a problem-solving idea:
"And what is the solution to waves of migrants seeking entry to the United States? In the end, regime change in failing countries. That doesn't mean American military involvement. It means incentivizing and supporting movements in countries like Honduras determined to bring democracy, rule of law, and property rights to bear. So long as failing states continue to maintain power on our southern border, such caravans will continue."
Gunnar Steele of Freedom Man further explains:
On borders –
"It is illegal to cross the American border without a visa. Everybody knows that. The President of our country has demanded that you not come and has promised to not let you in. Our neighbor to the south has demanded that you stop and has tried to stop you at their own border. Chaos, mayhem, and personal destruction are guaranteed to you and your family—and yet you still come? Why should I feel sorry for you?"
"If we let these people in, then what is the point of having a border? What is the point of having a nation? Where is the concept of national sovereignty? Why not just let anyone and everyone in for any reason whatsoever? And you better expect that the rest of the world is coming if these caravaners get in."
On compassion –
"As a Christian, I believe it is my personal duty in the private sector to help others whenever possible. Especially the poor. But my personal duty to God is not the same as a poor person's 'right' to my pocketbook, nor is it an open door to eliminate the security of my nation."
"If you want to help these people, then YOU go down there and help them out. But don't tell the world, that just anybody can invade your country, take your money, and permit their own family to be destroyed, just because you feel sorry for the fact that they are poor."
"There are poor people in Africa, too. And the entire Soviet Bloc. And southeast Asia. In fact, over half of the world, more than 3 billion people are poor (they live off of the equivalent of less than $2.50 per day). That is poorer than Honduras. And 80% of the entire world is poor—living on less than $300 per month. And most of them all live in oppressive countries with oppressive leaders. It is a sad situation, no doubt. So should we just let them all move into the US tomorrow and give them access to our public treasury?"
"I've got a better idea…lets send missionaries into their countries, and teach them the entirety of the Bible. And instead of confining freedom to our land, lets send it out to the rest of the world."
Great ideas that point the right direction.
Don't believe the political tricks about removing borders and redefining compassion.
Strong borders, wise and generous immigration laws, increased personal compassion, biblical truth, and a global explosion of Christ-centered missions are the real answers to the "caravans" we face in our fallen but redeemable world.