Loving Friendships–Our Greatest Treasure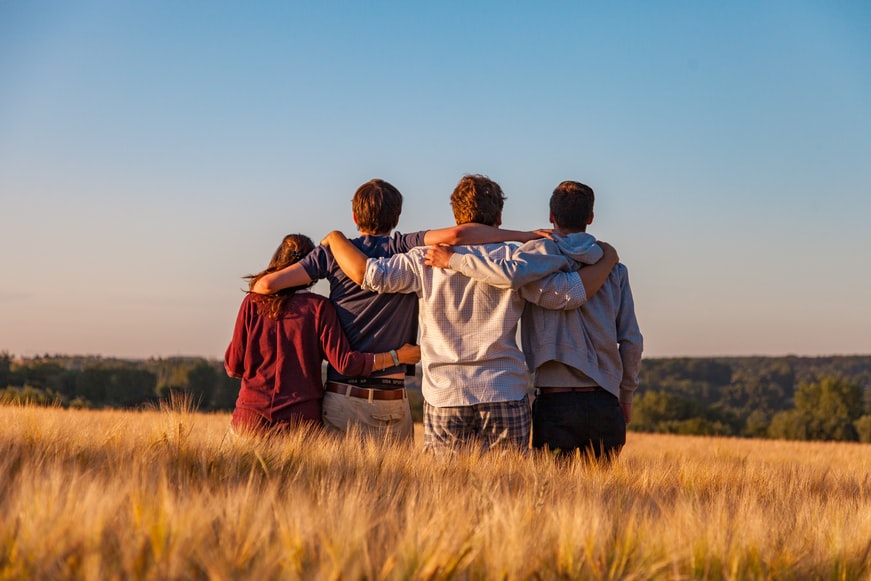 If loving friendships are the greatest treasure in life, then I feel like the richest man in the world
On September 17 and 18, nearly two hundred of the 1971 graduating class of South Kitsap High School attended our 50th Golden Reunion over two days of activities in Port Orchard, Washington. It was one of the most demanding weeks of my life (mentally and physically–we're all getting older), and one of the most rewarding on a relational level.
We label "once-in-a-lifetime events" golden because of their scarcity, unique value, and the sense of stability and security they bring to our lives–just like gold or precious metals.
This one was golden in every way because of the depths of love and affection for one another.
Loving friendships–forever–is our greatest treasure.
Loving Friendships–Our Greatest Treasure
Tomorrow in my daily devotions I'm scheduled to read Matthew chapter six–a portion of Jesus' famous Sermon on the Mount (one of the first portions of the Bible I memorized). 
At the center of this famous teaching, we find the secret to being rich:
"Do not lay up for yourselves treasures on earth, where moth and rust destroy and where thieves break in and steal, but lay up for yourselves treasures in heaven, where neither moth nor rust destroys and where thieves do not break in and steal. For where your treasure is, there your heart will be also."
On earth, when people become wealthy, it usually comes in the form of money, stocks, properties, and other worldly assets. Our culture worships rich people and believe they've lived the most successful lives possible.
But man's view is not God's perspective. 
Jesus specifies in this passage and others like it that earthly wealth doesn't last–it rots, gets stolen, and can't be used in eternity. He told us to lay up "treasures in heaven" which can only be a few possible realities: relationship to God by faith, his character in our lives, and other people we influence toward heaven.
Thus, our greatest treasure must be to celebrate and collect is a wealth of friendships that we can enjoy forever. The person with many friends is the richest person in the world.
That was the essence of our Golden Reunion.
For six months, a group of friends from the class of '71 worked hard to create an amazing gathering for our classmates. We fought naysayers, fear of Covid, and finally gully-washing rains which arrived on the weekend of the event. (We received more rain on September 17 and 18 than the entire summer combined.)
But faith in God and His purposes kept us strong. We wanted to bless as many of our 290 remaining classmates as possible (out of 360 in 1971). We also desired to honor those seventy childhood friends no longer with us.
Our meetings and preparations were saturated with friendship and care for one another. We prayed, laughed, made decorations, set up tables, moved hundreds of chairs, and transformed our home church into a haven of friendship. "Oh, how they love one another!" became the theme of all that we did. In a small way, our core team of twenty-to-thirty mirrored the teamwork and beauty of heaven as we used our gifts and abilities to bless and reach out to our classmates.
A childhood neighbor and I (she lived three houses down on Lidstrom Hill) shared the main leadership roles. We work well together. She was my "basketball retriever" when I took thousands of shots in our driveway as a kid. We nicknamed ourselves the "Lidstrom Duo." She and her husband live in her childhood home. That's stability. So is our friendship.
We held the reunion at First Christian Church. Five classmates attend the 30,000 square foot campus known as "FCC" located on Hovde Road. We all serve in different areas and appreciate each other deeply. We call ourselves the "Hovde Five" and helped the church catch the vision of hosting a school reunion for the first time. That included getting the leaders to change their "no alcohol" policy (going back to Prohibition) into a commitment to reach more people for Jesus.
On Friday night September 17, we hosted a catered banquet for nearly 120 classmates. The church looked beautiful with school memories on many walls, gorgeous decorations, and numerous Golden Reunion mementos. We even found our old mascot (a stuffed, life-size wolf) in the high school catacombs and brought "Rebel" onto the stage (and renamed him "Revival"). 
Our old football coach (eighty-one) led the school fight song as we began. Later on he and I shared some touching moments as he presented me with a photo album of our undefeated ninth grade football season put together by my dad in 1967. Coach had kept it for fifty-four years and was excited to pass it on.
The Class of '71 laughed and cried through the program sharing memories, comedy, hearing "Gold Wisdom" from some former teachers, and then a special inspirational message from a D.C. friend who encouraged us to live "the dash" of our lives to love and cherish people (what's in between our birth and death dates).
At the end of the banquet, we stood together and sang our Alma Mater song. I didn't realize when I was in school that those Latin words mean "nurturing mother." The original intention of education was to lovingly "point the way" as parents do for their children.
After the meal, many classmates ventured down to the "Memorial Chapel" where we made small individual displays for all seventy of our classmates who have died. You could write "notes" of remembrance to them and take home decorative rocks with their pictures.  On the wall was a constant stream of their pictures. We cried, talked about our childhood friends now deceased, and used the precious moments to form greater ties of love for the living.
Then we gathered in "Studio 71" for music, dancing, desserts, and hours of "catching up" on the years gone by. The depth of conversation and friendship was amazing and heart-felt.
The second evening, nearly seventy-five turned out for a "Faith Night" Salmon Bake which included a Young Life Club Redux (wild), Gospel message, giving out free books to all in attendance (Jesus Changes Everything by Doug Burleigh–our speaker), and then gathering at the church altar for singing and even some baptisms! The enjoyment of godly friendships went late into the night.
The next day, when I was still basking in the glow of the reunion, I learned that two dear friends had passed from this life. One was a CRU leader I'd served with in many parts of the world including the Athens Olympics and many National Days of Prayer. The other was a treasured YWAM mission builder who was crucial to our work at Discovery Bay. I rejoice that both close friends now stand in the presence of God in the eternal realm of love.
On a bigger plane, my treasure of loving relationships certainly include my family, the mission in which I serve, those I've taught around the world, and numerous other friendships.
I sometimes feel like the richest man in the world.
Let's always remember that our greatest treasures in life and eternity are our love relationship with God and the friends we bring with us.  None of the "stuff" of the world matters for long. When people are nearing death, they don't ask for their diplomas, trophies, cars, checkbooks, or memorable knick-knacks to be brought to their bedside.
They want to be with their loved ones–their true riches.
Let's multiply those treasures every day.