Do Women Hold the Key to America's Future?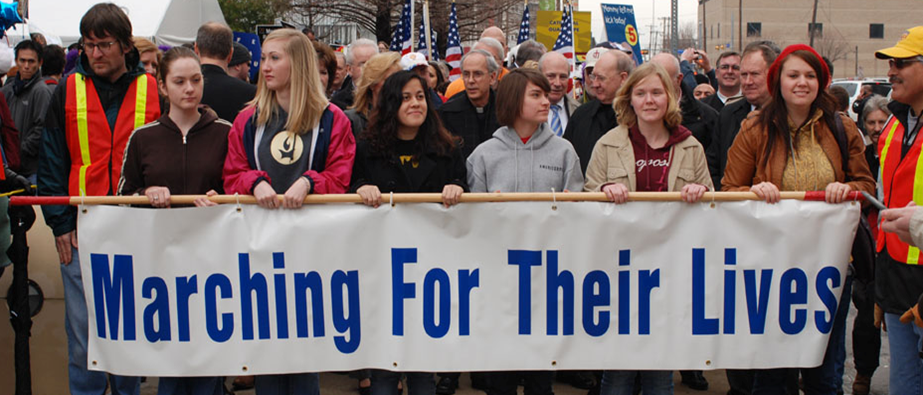 The stark contrast and worldview difference between the recent March for Life and the Women's Marches could not be more glaring.
One march peacefully encouraged the stoppage of the world's single greatest holocaust–the slaughter of 60 million innocent children in America since 1973. The other profanely applauded the barbarism of baby-killing and while displaying signs depicting a litany of progressive causes.
Women stood at the center of both marches–and are rising in power in America society.
Do American woman hold the key to our nation's future?
Shirley and I and our kids, both born and unborn, joined in the March for Life in Washington, D.C.  during the 1980's. March for Life was started by Catholics in the mid 70's, and eventually Protestants and others joined in to make it the largest annual peaceful protest in the United States (in many cities).
The majority of those marching each year are women–for many reasons.
Some participate because they were victims of abortion who've changed their hearts and lives, received forgiveness from God, and who now deeply desire their nation to turn from its destructive ways. Others share the biblical view of the sanctity of human life and want to join in solidarity to see abortion ended.
Encouragingly, a high proportion of today's March for Lifers are Millennials who are rapidly becoming one of the most pro-life generations in history.
Monica Burke reports: " Millennials are increasingly pro-life. And a recent poll shows that 76 percent of Americans support substantial limits on abortion."
Young Millennial women led the way at the 45th March for Life. You might be encouraged by studying the "signs" they carried on January 19, 2018.  Most were thoughtful, biblical, respectful and passionate.
You can look at the "best 29" of them here.
While Presidents Ronald Reagan and George W. Bush addressed the March for Life via phone during their terms, President Donald Trump became the first president to address the 2018 March for Life rally via broadcast from the Rose Garden.
He shared these words with the nearly 100,000 marchers:
"The March for Life is a movement born out of love: you love your families; you love your neighbors; you love our nation; and you love every child born and unborn, because you believe that every life is sacred, that every child is a precious gift from God."
The size, the numbers of young women, and the president's strong support made the 2018 March for Life historic.
Two days later the Woman's March took place in D.C. and other cities around the nation. It began in 2017 as a rejection of the Trump election. They drew large numbers again this year though they were down from last year.
Tragically, the Women's Marches showed the opposite spirit of the March for Life, including profanity, hate speech, lewd signs, celebration of the abortion holocaust, and a litany of progressive sexual anarchy causes and gender confusion.
23-year old singer-songwriter Halsey emerged as a poster-child for this year's Women's March. She spoke these words at the New York Women's March:
(Reader discretion advised).
"It's 2012,and I'm dating a guy. And I sleep in his bed and I just learned how to drive. He's older than me and he drinks whiskey neat. And he's paying for everything ― This adult thing is not cheap."
"We've been fighting a lot, almost 10 times a week. And he wants to have sex and I just want to sleep. But he says I can't say no to him ― This much I owe to him."
"He buys my dinners so I have to blow him. He's taken to forcing me down on my knees. I'm confused because he's hurting me. While he says "please." And he's only a man and these things he just needs."
"He's my boyfriend ― So why am I filled with unease? It's 2017 and I live like a queen. I follow damn near every one of my dreams. I'm invincible ― And I'm so f***ing naive."
"I believe I'm protected 'cause I live on a screen. Nobody would dare act that way around me. I've earned my protection. I'm eternally clean. Until a man that I trust gets his hands in my pants. But I don't want none of that ― I just want to dance."
"I wake up the next morning like I'm in a trance. And there's blood. Is that my blood? Hold, hold on a minute. See, I've worked every day since I was 18. I've toured everywhere from Japan to Mar-a-Lago. I even went on stage that night in Chicago when I was having a miscarriage. "
"I mean I pied the piper. I put on a diaper. And I sang out my spleen to a room full of teens. What do you mean? This happened to me. You can't put your hands on me. You don't know what my body has been through. I'm supposed to be safe now. I earned it. It's 2018."
Halsey opines out of a secular/atheist worldview where sexual anarchy is the norm and she feels both invincible, used, and naive.
If you want to compare the spirit and message of the Women's Marches with the March for Life, you can view this eyewitness account.
Contrast Halsey's message with the story of Rep. Jaime Herrera-Beutler, a Congresswoman from my home state of Washington. She spoke at this year's March for Life and was joined on stage by her family, including 4 year-old "miracle" daughter Abigail.
Beutler said that she and her husband were told that her baby had a "zero percent chance" of survival, and that most parents in their situation opt to get an abortion.
"We prayed, we cried… and in that devastation, we saw God. . . Through divine intervention, and some very courageous doctors who were willing to take a risk, we now get to experience our daughter Abigail, who is a healthy, happy 4 year-old big sister."
Note the difference between Beutler and Halsey.
Two marches filled with women. One portrayed respect, peace, and standing for traditional Judeo-Christian values including the gift of life. The other exhibited crude behavior, vulgar speech, inflammatory rhetoric, and demanded that secular or atheist norms prevail in the United States.
These are two visions for the American future: one a revival of America's biblical foundations–tThe other a destruction of all that is lovely and good. One gives off the sweet scent of life and hope. The other stinks of death and despair.
Does anything more symbolize the worldview battle in the United States than virtuous women who want "God" as opposed to ungodly women who want power?
Women may be the key to America's future. And,  if history is a guide, there is hope.
In the 1830's, French historian Alexis de Toqueville toured the United States to discover the difference between the American Revolution, which brought freedom and blessing to U.S.–and the French Revolution which spawned anarchy and tyranny in France.
One of his conclusions was that the women of America were a major source of our greatness. Here is his analysis:
"For my part, I have no hesitation in saying that although the American woman never leaves her domestic sphere and is in some respects very dependent upon it, nowhere does she enjoy a higher station. . . If anyone asks me what I think is the chief cause of the extraordinary prosperity and growing power of this nation, I should answer it is due to the superiority of their women."
"Religion is often powerless to restrain men in the midst of innumerable temptation which fortune offers. It cannot moderate their eagerness to enrich themselves, which everything contributes to arouse. But religion reigns supreme in the souls of the women and it is women who shape morals. Certainly of all countries in the world, America is the one in which the marriage tie is most respected and where the highest and truest conception of conjugal happiness has been conceived."
Translation: Women tend to be more spiritual/moral than men and in the United States that virtuous foundation brought manifold blessings to the nation.
Times have changed and women don't operate exclusively in the home. But their faith, prayers, godliness, and stability just may be the ultimate key to American renewal.
Os Guiness sees this parallel in 2018:
"The battle is between '1776', and the heirs and allies of the American Revolution, where faith and freedom went hand in hand; and '1789' and the heirs and allies of the thinking of the French Revolution, where faith and freedom where mortal enemies."
Let's pray that godly women will arise and that faith and freedom in Christ will triumph.