Awaken Your Conscience Through Prayer & Praise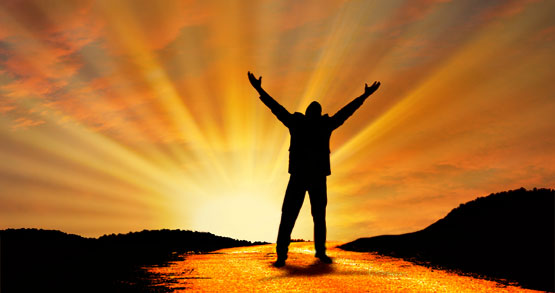 The Western World is facing both a sobering and frightening return to paganism.
We once had consciences that were awake to God's truth, leading us to common sense, wise living, and the blessings of faith and freedom in society and our own personal lives.
All that is up for grabs in the 2020's because we're turning away from God.
How do we get back?
Awaken Your Conscience Through Prayer & Praise
I've visited German concentration camps in Europe. On a large sign at the entrance of Auschwitz are these troubling words of Adolph Hitler:
"I want to raise up a generation devoid of conscience."
He did–and you know the agony that brought to the world through World War II.
In the 21st century, one of the greatest needs is a renewal of conscience that awakens and changes our lives.
That journey starts with our relationship to God himself. Where do we stand before him? What is the state of our conscience toward our Creator, Savior, and Lord?
Before we answer that question, we need to remind ourselves that every sin we commit is ultimately disobedience to God that separates us from him and true freedom. Sin is a failure to remember that he is there and that his presence requires certain behavior of us.
The Bible is clear about the following facts:
God hates sin (Psalm 7:11, Proverbs 8:13).
Man's rebellion against Him has hurt and grieved His heart (Genesis 6:5,6, Lamentations 1:16)
We are accountable to him for everything we've done, including every careless word we've spoken (Romans 14:12, Matthew 12:36).
No one will ultimately get away with any wrong behavior (Ecclesiastes 12:14, Romans 2:3).
God requires growth in maturity and holiness in our lives (2 Corinthians 7:1, Hebrews 12:14.
Jesus died for us to set us free from both the penalty and power of sin (Colossians 2:13,14, 1 John 3:9).
Salvation includes the cleansing and renewing of our conscience (Hebrews 10:22, 1 Peter 3:21).
All dullness of conscience comes down to forgetting God. He is always with us. He sees everything we do. To forget God's presence and live our lives in disobedience to his commands is really a state of fantasy and bondage.
Much of the world lives in fantasy land and chains–oblivious to God. Yet, he's the greatest reality. It is a grave mistake to forget that he is there.
We should regularly examine our relationship to God. Are we consciously aware that He is watching everything we think, say, and do? Is our heart open to him? Do we understand that he loves us and wants only our good? Do we know that one day we will give an account to him for all of our actions?
One day in the future, all people will be examined by God–including believers. All that we've thought and done will be seen in complete detail. Those of faith, with good hearts and lives will be ushered into his eternal kingdom. Those with bad hearts and lives will be separated from him forever.
Over the coming weeks I want to share more questions to help you analyze and awaken your conscience before God.
Question One
Do you often neglect personal prayer and praise times? Do you often pray with little faith or passion? Does your mind regularly wander when you pray? Do you worry more than sing God's praises?
Spending time with God in prayer is a mark of our intimacy with him. If we know him, love him, and desire to see his kingdom grow on earth, we will make prayer a daily priority. Failure to pray is a sign that God is distant in our thoughts and in our lives. When we actively seek God's presence, conversation with him naturally flows.
Maybe you're like me. Sometimes I go to prayer and feel like a limp noodle. God seems gone, there is little burden or feeling, and my prayers rise about as high as the ceiling.
Ever had that experience? Well, join the club. There's nothing unusual about it.
What's bad, though, is when we have these experiences as a result of dulling our consciences toward prayer. If our conscience is sensitive to God, instead of just walking away and forgetting it all–even during a season of testing or spiritual dryness, we'll cry out to him and ask him to help us grow and persevere.
Many of us treat God as a non person. We sit down to pray, and our mind wanders to last night's movie, today's shopping trip, or tomorrow's problem. Then after drifting awhile, we get up and leave the room without ever saying goodbye. If we treated our friends the way most of us treat God, we'd live in a very lonely world.
Isn't it comforting that he understands? God knows we are human, and gives us much slack because of it. But, we do not want to abuse His graciousness by treating him like dirt? He should be our best friend. We should treat Him as such during those times of quality conversation–the time we spend in prayer to him.
I'll never forget a prayer time I had years ago on the steps of the U.S. Capitol Building in Washington D.C. Having recently faced some major leadership failures in my life, I stood alone and silent, pondering the future. Instead of praying I was worrying. Instead of trusting him I was wallowing in a large manure pile of self-pity over some of the mistakes I had made.
After enjoying the pity party for an hour, I asked God's forgiveness and began to pray not fret. Immediately after getting my heart right, waves of God's love and cascading revelation came flowing through my being. He had good and wonderful plans for my future. The best was ahead.
While I'd been distant to God, he had waiting to comfort and take me forward. All I needed was to humble myself and trust him. When I finally turned, he flooded my soul with peace.
And what about the importance of praise? If your conscience is awake to who God is, then praise will be the normal language of your heart and mouth. He is the most fabulous, incredible, unbelievable, fascinating Being in the Universe. Not only that, He died for your sins, loves you deeply, and wants to live inside you and be your friend forever. That's cause for celebration,
We also need to think about his blessings more than we do.
A heart open to God will always show itself in the voice of praise and thanksgiving. God is so great. God is so good. If you find yourself not thinking and feeling this way very often, then your conscience has become extremely dull to who God really is. David, the man after God's own heart, put it this way:
"You make the path of life known to me. Complete joy is in your presence. Pleasures are by your side forever" (Psalm 16:11).
David also sang a lot. That's because he learned through a sensitive heart and mind to bask in the presence of God. We can learn too.
I have a friend who spends almost every evening strumming his guitar and cranking up his praise music on the back porch of his Colorado Rockies home. With a heart for worship, he enjoys the presence of God, oftentimes going for hours in his presence. Being delivered from drugs, alcohol, and prison time him gives reason for exuberant praise.
To turn around a culture we must first awaken our own conscience to God through prayer and heart-felt praise.