Simply Redeemed–With A Smile and a Hug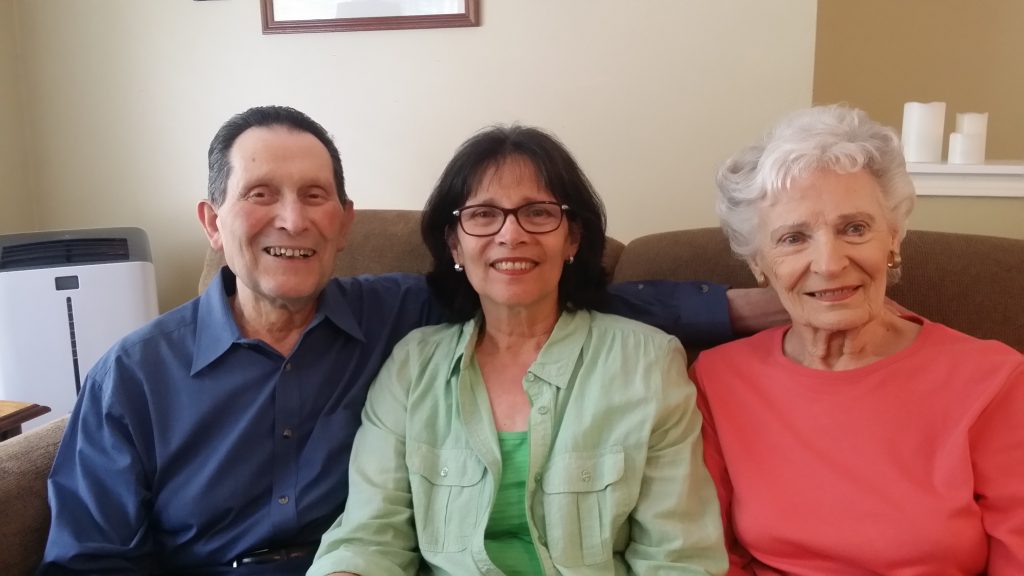 On Friday morning, August 18, my beloved father-in-law, Charles Edward Cookson, breathed his last and was transported into the arms of Jesus. I'm sure his homecoming was marked with a big smile and warm hug.
Both were a trademark of Chuck Cookson. The other was simplicity of heart and life — two rare qualities in today's complex world.
He is now simply redeemed.
Chuck Cookson was born on August 6, 1926, in Port Orchard, Washington during the Roaring Twenties. His father, Leonard Cookson, built a small home at 816 Sidney Street, only six blocks up the hill from the downtown waterfront.
His mother, Clara Dixon, was three-quarters American Indian and a gracious woman who worked extremely hard. Chuck was the youngest of three and said he was born in the "shack" behind the three bedroom house.
In 91 years, Chuck never moved more than eight blocks from his roots.
A few years later, the Roaring Twenties became the Great Depression. Chuck sold newspapers and did odd jobs to help the struggling family. At the tender of nine, His father deserted the family, leaving them to fend for themselves. Young Chuck cried and pleaded with him not to go. (Not a good start to his image of a good and faithful Heavenly Father.)
Six decades later, Chuck would reach out to his dad and help him in his later years. Every Sunday afternoon, Chuck and Maggie took their aging fathers out for lunch and a drive.
The 1930's and 40s were hard times as Clara worked numerous jobs, the children contributed their meager earnings, and they even housed boarders at their home. Chuck graduated from South Kitsap High School in 1944, and after some electrical apprenticing, decided to open a Texaco gas station with his brother, Tom, in 1947.
Cookson's Texaco stood just across the street from the Port Orchard City Hall. Tom sold his part in the business a few years later, but Chuck faithfully manned his post for the next forty-two years. Many in the South Kitsap community knew Cookson's Texaco as it was the only filling station with a sign which read: "If You Can't Stop, Smile as You Go By."
Smiling back would be the handsome, beaming face of Charles Edward Cookson.
The gas station hired a young, vivacious bookkeeper from Parsons, Kansas, in the late 1940s. Margaret Irene Taylor married Chuck on August 7, 1950, one day after his 24th birthday. Two months later they moved into an 800 square foot upstairs apartment on Bay St. just one hundred yards from the station.
Chuck and Margaret would spend the next 67 years in that same apartment. When Mark Rill, the local funeral hall director asked Margaret how long Chuck had lived at his "most recent address," she replied, "67 years." Mark exclaimed:"Well, that must be a record!"
Early in their marriage, Margaret learned she couldn't have children. But God had other plans. On February 26, 1952, they joyously welcomed Shirley Jean Cookson into the world.
I always said that God created Shirley just for me. But her dad felt the same, and during the final week of Chuck's life, Margaret turned to me and said that  she felt God created Shirley to "keep her company."
All three were true. Shirley would remain an only child, prompting me to remind Margaret that I had to be her favorite son-in-law.
Chuck was one of the hard-working men I ever knew. He served his customers with grace and a smile that could light up a room. He was a quiet man who didn't serve in WWII due to deafness in one ear (caused by Scarlet Fever when he was young). During the Korean War, he was accepted, but was deferred due to Margaret being pregnant with Shirley.
He went back to work  and flashed his famous smile at Cookson's Texaco for nearly five decades. One fringe-benefit of being a poor son-in-law in the late 1980s was getting free gas during the height of the oil embargo–that pushed prices alarmingly over $1 per gallon!
Chuck was always generous with gas, help, and his famous smile. In fact, his bookkeeper wife constantly complained that not one month in fifty years did they ever make money on candy and pop at the station. (He gave more away than he sold.)
During Chuck's years as a small business owner, he often worked 84 hours a week–twelve hours a day, seven days a week. He woke up at 4 am, did his routine, then opened the station at 6 am. At 6 pm he walked or drove the one hundred yards to their apartment, had dinner, spent some time in "his chair," and then went to bed before 9. In his later years, he continued to go to bed early and get up at 4.
Only change? His reclining chair became his bed.
Early in their marriage, Chuck and Margaret started attending First Christian Church, close to their apartment and actually the first church in Port Orchard. In the 1960s, through the preaching and friendship of Pastor Jack McDaniels, Chuck was baptized. He would later serve as the perfect church greeter, known for his warm and firm hugs.
Nobody did them better.
Due to the Cookson connection at FCC, the church would become the "anchor" supporters of Shirley and my forty plus years in Youth With A Mission.
Dad Cookson loved to watch the sun rise over the Olympic Mountains, read the Funny Papers, and do Crossword Puzzles. His other passion was the Seattle Seahawks. His daughter caught the bug, too. Recently Chuck remarked to Maggie, "I think she knows more about football that I do."
Probably true. I spent many afternoons in the Cookson apartment listening to Shirley and dad talk about their beloved birds while Mom and I gazed at the floor. Shirley not only looked like Chuck and shared his gracious spirit, but became his "Go Hawks" buddy. Her last present to him was a Seahawk Bear that now sits on the family mantel. Chuck died on a "Blue Friday." (Fans will understand.)
Father and daughter were two peas in a pod.
During his sixties, Dad Cookson deepened his faith greatly. I remember meeting with him personally during that time and watched God do a deep work in his heart and life. He closed down the station in 1994, and lived his retirement years in his favorite chair in their apartment, while serving family and church.
Chuck's early and retirement years served as bookends on a half century of hard work with a smile and a hug.
It was a simple, but great life.
This summer, as he approached 91, Dad grew weaker. He had never loved doctors and medicine. In fact, before he passed, he hadn't seriously seen a doc for sixty years! He believed in hard work, healthy eating and plenty of supplements (kelp pills, soy powder, vitamins and the like). In his thirties he'd been diagnosed with a serious form of anemia, but it never stopped him. Years ago, a physician told to take blood pressure medication. He refused–and lived to 91.
He's always told Margaret he wanted to die at home. He wanted to pass into eternity from the place he'd lived most of his life.
He got his wish.
The last week of his life, Dad showed signs of failing. We moved his favorite chair and put a hospital bed in its place so he could gaze out their upstairs window on Sinclair Inlet and the Olympic Mountains. Twice a day my mother (an amazing nurse!) and I turned him, took care of him, and made him comfortable. My job was to hold him in a bear hug while mom worked. I told Dad to imagine a Kam Chancellor tackle! He smiled and said, "Thanks, Ron."
Margaret kept vigil day and night and Shirley remained present, always serving. The final afternoon, Chuck was unusually alert and shared eye contact and some words with Margaret and Shirley–the two people he loved most. The room glowed with tears and words of affection.
I stayed overnight the final four evenings to be a needed male presence. I sang to Chuck "Swing Low, Sweet Chariot," talked about heaven, and told him that, though we would miss him greatly, it was "okay" to "go home." Margaret slept on the couch, just three feet from the hospital bed.
At 5:30 am, on Friday, August 18, God woke me and nudged me to check on Chuck. Margaret was awake, and together, at 5:45 am, we heard him gasp his final breaths, then be released from his body to meet Jesus face-to-face.
You don't measure a life by countries visited or possessions owned. All that really counts is faith and love which, when completed, bring everlasting hope.
Chuck Cookson's faith brought him salvation through Jesus Christ. His life blessed many others.
Now he is simply redeemed–and thoroughly enjoying an eternal smile and infinite hug.