Honoring My Father and Mother–Every Day at Four PM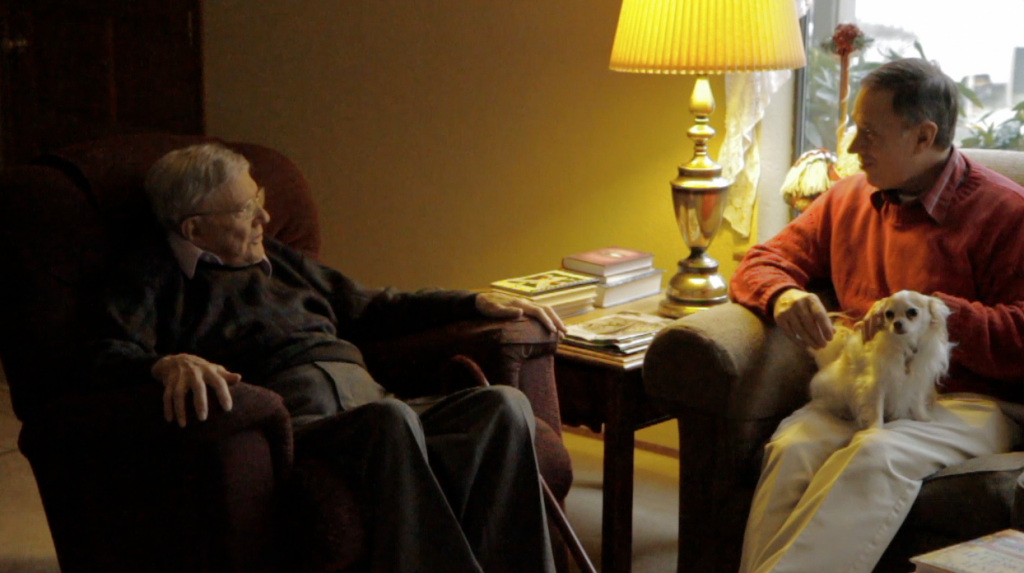 I recently celebrated a special 10th anniversary–one I never planned in my wildest dreams.
I've always been a big vision kind of guy, giving my time and energy to teaching and preaching for Jesus, promoting spiritual revival, and mobilizing God's people for world evangelism.
But ten years ago, I made a commitment just as important in God's economy as changing nations.
I chose to honor my parents–every day at 4 p.m.
Honoring My Father and Mother
The only commandment with a promise that God gave Moses is number four which relates to the family unit:
"Honor your father and mother. Then you will live a long, full life in the land the Lord your God will give you."
The rest of the commandments are just as important and serve as guidelines for right living. But only the fourth command–centering on the importance of the nuclear family–contains a quid pro quo. Our Creator says if we honor our earthly parents then He will bless us with a "long and full life."
God must highly esteem parental respect.
As a young person, I never rebelled against authority or my parents. Credit that to an even-keel personality (God-given) plus, more importantly, giving my life to Christ at age 15. That decision led to eventual character growth that helped me treat my parents honorably.
I know many kids who didn't–some of whom have little relationship with their folks today. The tearing apart of the family unit was one of saddest fruits of the "youth rebellion" of the 1960's and 70's.
It continues in America–inspired by the devil.
God, on the other hand, loves families–harmony and blessing between parents and children. He knows that nothing is more important for instilling His values of love (1 John 3:4)  than the proper functioning of the nuclear family.
In truth, the Triune God (Family, Son and Holy Spirit) makes up the "First Family" of the universe. Honor, love, respect, appreciation, care and numerous other relational qualities flow them the heart of the Trinity.
These characteristics were meant to be learned and cherished in the home through healthy relationships between husband/wife, and parents/children and extended family that multiplies the love.
Family life was designed to be an incubator of godliness and discipleship. No wonder Satan's forces work overtime to destroy it through babies born out of wed-lock, dead-beat dads, narcissistic moms, rebellious and defiant children–and now even proposed government laws like the Equality Act which would drive a governmental wedge between parents and children.
But back to my story.
Though I shared a pretty good relationship with my folks,  there were blemishes. In fact, when I became the first member of my family to be "born again," in my immaturity, I subtly blamed my parents for "not telling me the truth."
For years afterwards we shared a somewhat awkward relationship where I understood I should be under their authority, but  "knew more about God than they did" while struggling to reverse mentor them into God's Kingdom.
My 47-year old spiritual journal (which I'm currently transcribing) contains a number of references to this dilemma.
December 9, 1972 – 1 Tim. 5:1,2 – "We're not to rebuke elders but to treat them as fathers and mothers. I must learn not to rebuke people, especially my parents."
 March 31, 1973 – 1 Cor. 16:14 – "Let all that you do be done in love." "I was so convicted of this yesterday and last night. I've got to start loving people instead of looking down my nose at them. I need the compassion of Jesus" (Matt. 9:36).
Sept. 19, 1973 – Luke 2:51 – "Jesus, the Son of God, as a youth, was subject to his parents. What a profound revelation. He obeyed his folks. I've got to learn something here—how to follow God and especially through my parents."
Jan. 2, 1974 – Luke 2:51,52 –"This means a lot to me—that Jesus remained in subjection to his parents until He began his ministry is his late twenties. However, spiritually and physically, He was preparing Himself all along. I must continue to obey my parents. I've rebelled a bit. Lord–may I grow up a lot here."
God finally saved us all–despite my youthful arrogance. Then He blessed me with a wonderful wife and six kids of our own to give us the "parent" perspective" on things and grow us up even more.
Fast forward to spring 2009.
When my father turned ninety and was being sacrificially cared for by my mother, God spoke a word to me that demanded a response:
"Your parents helped you begin your life well. I want you to help them end their lives well."
He wanted me to honor my parents in their later years.
I knew in my heart what it meant. I needed to intentionally spend more quality time with my dad and mom–especially my aging father (mom is twelve years younger). I decided to make a "date" to see dad every day at 4 pm–except when I was traveling.
Family is important. It was a primary reason Shirley and I returned to the Pacific Northwest in the late eighties–to be near our parents and let them enjoy their only grandchildren.
Now my parents were entering the end-of life stage. That's when God spoke and "See you every day at 4 p.m." began. That simple commitment became one of the most important habits of my life.
I grew to love our daily date:
Dad and I talked–liked we had never done in our entire lives. (My father was quiet by nature and generation. But we forced ourselves to communicate–and learned to do it well.)
We discussed the Bible and many other things. I let my dad lead me in his areas of expertise (medicine, finances, business) and he let me "pastor" him in mine.
I learned of our family heritage and roots–and helped him compile a brief genealogy.
Occasionally my father would say "Don't come over today because it's a family day." I would smile and tell him that he was family too! (Tired of talking?)
I also used our daily date to take care of things around my parent's home.
We became best of friends through these daily visits.
Both mom and I had the privilege of being with dad when he passed from this life on March 9, 2014. When we returned to their home from the hospital, we found letters he had written to her, my brother and me tucked away in his desk drawer.
His final letter to me–tender and personal–is now the most precious possession I own.
All because I honored him enough to see him every day at 4.
Dad's now been gone for 5 years. I decided to continue the habit with my mom. We also talk, pray, laugh, share memories and go deep with each other–more so than at any time in our lives.
My mother has also become my best friend through our daily visits together.
Now that we're caring for Shirley's mother in our home and my mom one mile away, I travel little. It's time to give back. To honor. To be there for those who gave us life and made our lives possible.
Ten years later, I'm still honoring my mother and father by meeting with mom every day at 4 p.m.
What can you do to honor your parents? See them regularly? If they live far away, what about phoning or talking by FaceTime or SKYPE? If they've already passed, what other older saints desperately need a hug and call to dampen their loneliness and loss?
God says your life will be blessed if you honor your father and mother.
Later in life, He told me to do it every day at 4 p.m.
How about you?