Asbury Revival: It's What We've Been Praying For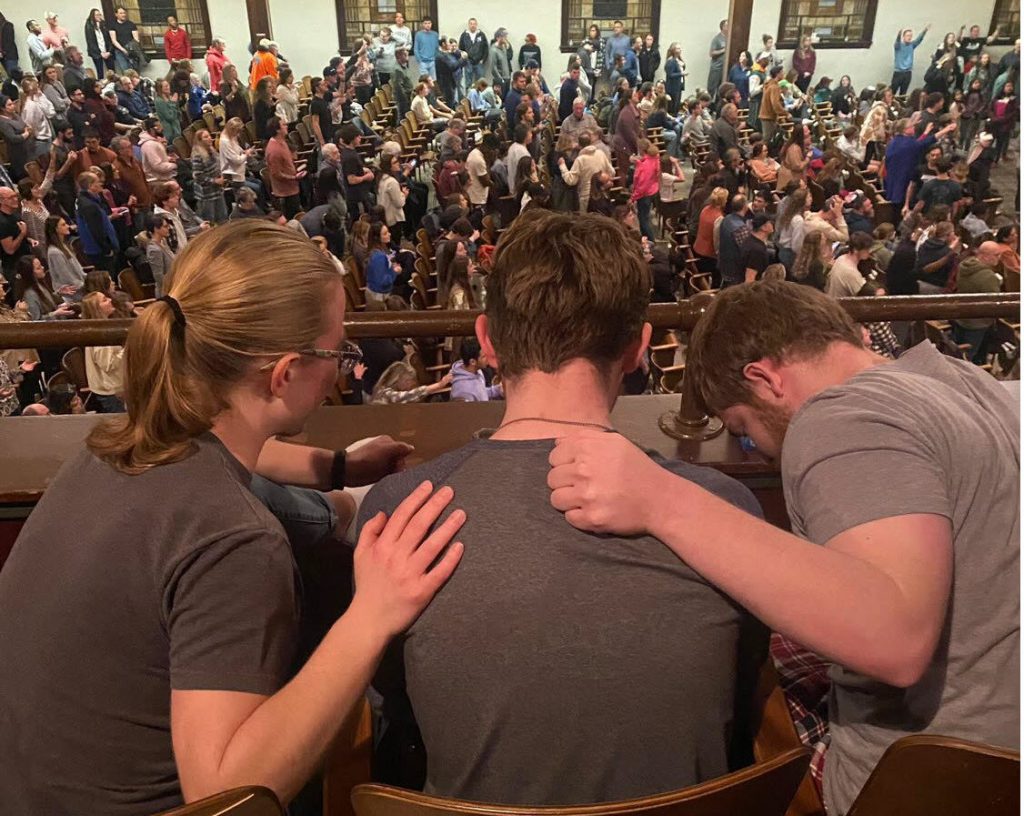 I have been praying for revival in America for nearly fifty years. Often it has been a daily prayer. Weekly, I devote my Friday quiet time to intercede for spiritual awakening in the United States. 
On Wednesday, February 8, God brought a revival to Asbury University in Wilmore Kentucky that is spreading to other campuses and states.
Here are my thoughts on the Asbury Revival.
It's what we've been praying for.
Asbury Revival: It's What We've Been Praying For
I'm especially indebted to CBN news and Intercessors for America for covering what's been taking place at Asbury for the past two weeks.
It's thrilling. Wonderful. An answer to prayer.
We must continue to intercede that it will envelope a nation.
What's now being called the "Asbury Revival" began February 8, 2023. Zach Meerkreebs, an Asbury graduate and assistant coach of the men's soccer team, had just finished speaking at the weekly chapel service in Hughes Auditorium. 
At the conclusion of the message, he thought  the sermon had bombed and texted his wife, "Latest stinker. I'll be home soon." He was certain that he had "totally whiffed" the sermon.
But after he prayed and left the stage, God showed up.
Here's his concluding prayer.
When he finished, students began to worship, pray, and share their hearts with each other. No one wanted to leave the auditorium. And the room stayed full of worshipping and praying collegians and visitors for the next fourteen days.
By the weekend of February 17-20, an estimated 15,000 to 20,000 people poured into Wilmore and attended revival services over the weekend. The crowds completely overwhelmed the small town of 6,000. with five overflow buildings and a grass lawn filled on campus. There was a 2.5 mile backup of cars going into Wilmore.
Due to the power of social media, news of the awakening spread like lightning. Here were some of the headlines: 
"Line Stretches Half a Mile as the Fruit of Revival Is on Display at Asbury: A Very, Very Healing Experience."
 "God Is Working on Our Campus." Students are in Reid Chapel (Samford University, Birmingham, AL) in complete awe of God. Praying, worshipping, reading Scripture.
"Supernatural Revival in the Age of Social Media: TikTokkers Help to Spread Asbury Move of God."
"Revival Power at Lee University," a school with Pentecostal roots in Tennessee.
"The Spirit of God Is Moving: Revival at Lee University Passes 70 Hours of 'Salvation, Deliverance, Healing."
One excited reporter exclaimed: 
"Cry out to God for your first love to be renewed. Lord, let the fire of your Spirit fall like latter rain. Don't be a spectator, God change me! God is doing a deep work of the Holy Spirit in our hearts and lives to prepare us for what is ahead." 
After two weeks of the unusual move of God, Asbury announced that the revival meetings in Hughes Auditorium would switch to another location in Kentucky on February 21 due to the crowds overwhelming Wilmore and classes nearly being shut down.

Asbury President Kevin J. Brown, commented:  
"Whether you call this a revival, a renewal, an awakening or an outpouring, what we have experienced on our campus these last few weeks is unlike anything I've ever seen in my life…"People are hungry for something more…Whatever happens from here, our deep desire is to see a life-transforming renewal of our younger generation to faithfully serve their communities, their schools, their churches, and their professions. To see them go into the difficult and dark places in the world and to be light."
Asbury experienced a previous move of God in 1970 that lasted for 144 hours. It was founded by Methodist evangelists in 1890 during a time of revival fervor.
Asbury has a heritage.
And God chose to use it in 2023 to light the fire again.
The impact has been so powerful that this ongoing Spirit-led event has even drawn the attention of major media outlets including Tucker Carlson of Fox News. 
I'm grateful to have experienced revival and believe it is at the center of God's calling on my life. I have studied many of the great revivals in history and am amazed how God can ignite the hearts of people who will carry his burden, vision, and passion. He sometimes lovingly uses them to change whole nations.
I have seen revival fires in various parts of America and the world both as an observer and in the role of a revivalist. Let me paint a portrait of its meaning using the language of those who have experienced it.
The reality we call revival, spiritual awakening, or renewal can be defined in a variety of ways. Here is what Asbury and other campuses and ministries are now experiencing as described by former evangelists and revival teachers:
"Revival is the Church falling in love with Jesus all over again" –Vance Havner. 
"Revival is a community saturated with God" –Duncan Campbell. 
"A revival means days of heaven on earth" –D. Martyn Lloyd-Jones. 
"Revival is God purifying his church" –Erwin Lutzer.
"Revival is ultimately Christ Himself, seen, felt, heard, living, active, moving in and through His Body on earth" –Stephen Olford.
"Revival is that strange and sovereign work of God in which he visits his own people, restoring, re-animating, and releasing them into the fullness of his blessings" –Robert Coleman.
"Revival is a sudden bestowment of a spirit of worship upon God's people" –A.W. Tozer.
"A true revival means nothing less than a revolution, casting out the spirit of worldliness and selfishness, and making God and His love triumph in the heart and life" –Andrew Murray.
"Revival is the reformation of the Church for action" –Max Warren.
"Revival is God revealing Himself to man in awful holiness and irresistible power. It is God's method to counteract spiritual decline and to create spiritual momentum in order that His redemptive purposes might be accomplished on earth" –Arthur Wallis.
And my favorite:  "A revival is nothing else than a new beginning of obedience to God" –Charles Finney.
A spiritual awakening in God's sovereign time and way, and in answer to prayer, has begun at Asbury University. To become a full blown "Great Awakening," this revival of God's people must grow and launch a thrust of evangelism among the lost which results in moral changes in our society.
That's what America needs and God has begun.
The word revival means to "live again." Since Jesus is the way, the truth and the life (John 14:6), revival is Jesus bringing his life in new and powerful ways to his followers. Together with other believers, this revival fire can be transformative. 
Revival is the life of Jesus exploding into our world.
One of my Latin American disciples who is from Venezuela and has worked as a missionary in China, texted me about the Asbury Revival. She told me that people where she lives were finding fault with it. Their criticisms included "singing Hillsong choruses, having women pray on the stage, and not using the King James Version of the Bible."
Really?
Kim Potter wrote a good article to rebut that pettiness. It's called, "Revival: Don't Find Fault, Find Jesus." 
That's exactly right.
It's true that 1970 Asbury Revival focused more on testimonies, repentance and prayer. This one leans more into praise and worship, healing, and deliverance. Asbury's student body president described it as a "quiet revival, intensely personal, deep, and private." 
Reminds me of "David's Tent" in Washington, D.C.–especially the worship part.
Praise God for what's happening at Asbury. February 23 is the Collegiate Day of Prayer which will be simulcast from Asbury at 8-10 PM ET. Pray for it to spread to every school in America.
May the life of Jesus explode afresh into your world and mine.