The Church Has Dimmed the Lights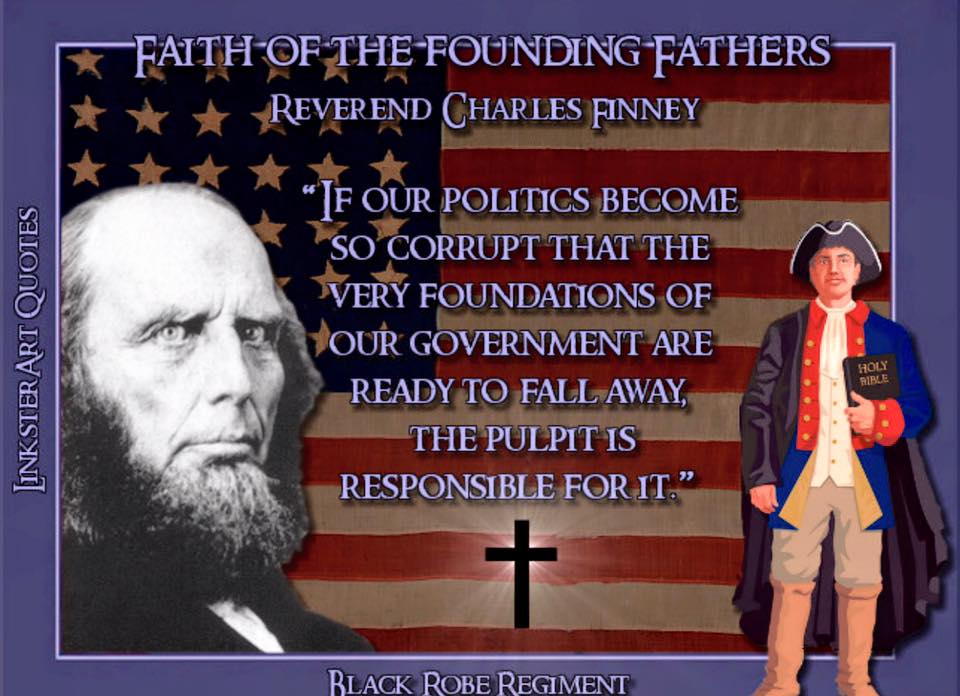 You might be shocked that I don't hold anarchists, Antifa, Planned Parenthood, George Soros-bought DA's, evil politicians or any other dimension of modern-day progressivism responsible for the current decline in America. 
I agree with God that the Church is at fault for dimming the lights.
The Church Has Dimmed the Lights
Though many factors in our complex society have contributed to our breath-taking decay of national conscience, three primary influencers stand above the rest. Revivalist Charles Finney's insightful words, revealing two of them, are worth studying:
"Now what is the cause of this degeneracy? Doubtless there are many causes that contribute more or less directly to it, but I am persuaded that the fault is more in the ministry and public press than in any and all things else."
Ministers and the public press. We would say today pastors and the media. The failure of these two leadership spheres are at the heart of our nation's decline.

Failure One – Pastors & Priests

In some ways, pastors and priests are to the Church what coaches are to athletic teams. Weak coaching, bad teams. If you have weak or sinful leadership, followers are left to flounder.
"Darkness" is simply the absence of "light."

The most important leaders in the life of a nation are the pastors. If they faithfully live and teach the God's Word, then truth will bless God's people and the Church will brighten the world. If pastors fail, the Church and society become worldly.

In the Old Testament, God held the Jewish leaders responsible for the state of the nation. In Ezekiel 34, God strongly warned the leaders of Israel that their lack of good leadership caused the disintegration of the people. Ezekiel declared,
"This is what the Almighty Lord says: How horrible will it be for the shepherds of Israel who have been taking care of only themselves. Shouldn't shepherds take care of the sheep? You have not strengthened those that were weak, healed those that were sick, or bandaged those that were injured. You have not brought back those who strayed away or looked for those that were lost. "You have ruled them harshly and violently… So, you shepherds, listen to the word of the Lord: This is what the Almighty Lord says: I am against the shepherds. I will demand that they hand over my sheep."
Many times in Israel's past, the nation's spiritual leaders became selfish, greedy, and unconcerned about the people–causing the nation to slide into evil. Leaders lost their vision of a just and holy God along with their compassion for those they guided.

Spiritual leaders set the compass of a culture. If ministers preach and live the truth, and care for the true needs of their people, the Body of Christ grows, matures, becomes strong, and affects society around them.

One of my favorite examples is John Wesley, the founder of Methodism. Through fifty years of tireless ministry, he lived and proclaimed the power of the gospel in 18th century England. Over 100,000 people came to Christ, many charities were founded, and his tracts and sermons helped end the cruel child labor laws of his day and influence the abolition of slavery.
A secret of America's early success was the role of the pastors in society. Coming out of Pilgrim and Puritan traditions, Christian ministers were highly respected as citizen leaders in colonial America.

Their authority came from their godliness. They not only taught the ways of God, but served as judges, civil magistrates, and dispensers of health, education and welfare. They were America's guardians of truth.

They preached on election days. They proclaimed God's standards during military conflicts. They led the way in America's awakenings.

According to Joseph Tracy, the first historian of the Great Awakening, the humility and repentance of New England's pastors greatly fueled the revival of the 1700's. He said:
"Especially among pastors there was a sense of spiritual want; there was self examination; there was self-abasement and mourning for discovered want of fervor and constancy in God's service; there was prayer for pardon, and for grace to be faithful…a more teachable spirit."
As ministers sought God and applied his truth to everyday life, churches were renewed, thousands were converted, seminary enrollment doubled, and the nation became morally renewed.

There are hundreds of thousands of ordained ministers in America today. Add Christian leaders and lay pastors and the number may rise to 500,000. That's about one pastor for every 750 Americans.

The moral influence of these 500,000 men and women should be enormous. Instead, over the past forty years, the nation's moral and corporate conduct has nose-dived into immoral oblivion.

What happened?

First, many church leaders don't really know the God of the Bible nor believe in its truth. Studies show that many mainline denominational ministers have made a major shift from biblical truth to a liberal view of Scripture. In one survey, 50% of those responding didn't believe in God as a Personal Being, 75% didn't believe in supernatural miracles, and 45% didn't believe in heaven and hell as actual places.

No wonder so many church-goers are confused, hurting, lost, and scattered. The shepherds are lost themselves. Some years ago a pastor friend told me his seminary didn't have one born again Christian either on staff or as a student. There were many "religious" people, but none exhibited the Christ-like character and integrity of God.
Sadly, that is true of many ministers today.

Second, many Christian leaders have fallen into sin themselves. The moral failures of many ministers has skyrocketed in the past few decades. Nearly 50% of ministers/priests say they have a problem with pornography–which is also rampant among their people. There are numerous Christian leaders who have also compromised with the lust for money or power.
Third, many good ministers have compromised the power of the gospel. Instead of leading Christians away from the idols of the world, we've closed the doors on Super Bowl Sunday and frequented the same movies that the secular world watches. Instead of transforming the culture, we've conformed ourselves to it.

I once spoke at a Revive America Seminar in Hastings, Nebraska, that began on a Friday evening and went through Sunday. When I arrived, I learned that the concluding service on Sunday was scheduled at an odd time. The reason? It was Super Bowl Sunday. Some pastors wanted to see the game at 5 pm and not offend their men.

God moved so powerfully during the service that many wept at the altar, some pastors stood and confessed the sin of making sports an idol, Few left the presence of God until the game was over. When God is present, nothing else matters.
Revival was more important than the world's best entertainment.

Many Christian leaders have compromised. Not all have capitulated to the culture, but many have. That's why God's light grows dimmer. 
When it takes a faith-based singer to tell the truth about "progress," you know that leadership is lacking elsewhere. Please watch the following music-video by country singer, John Rich, a follower of Jesus. I don't usually share this type of song, but it's clarity struck me. We need a few more pastors to stand up and deliver.
As of today, "Progress" has 277 million hits.
In the past two generations, the pastors and priests of our nation have largely turned out the "lights" of right and wrong, faith, and holiness in our land. Pray for them. Encourage them to rise up and be heard.
Next week we'll discuss the second major reason for cultural decline and encroaching darkness.
Media corruption.