When God's Law and Man's Law Conflict–Lessons from Kim Davis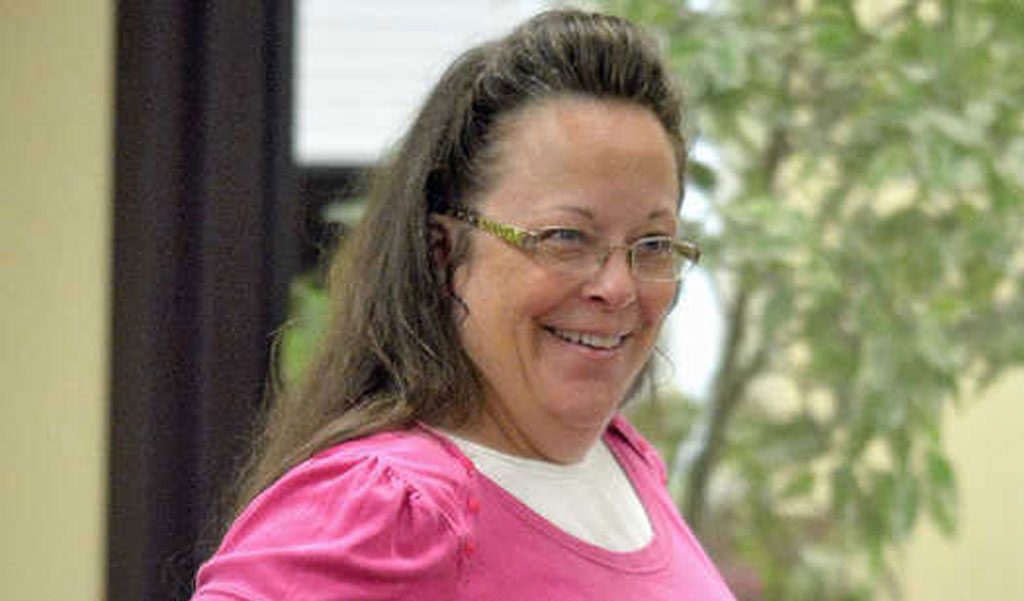 Many interpretations are being thrown around these days about obeying "the law of the land" in these United States of America.
The issue exploded recently into public view when a Kentucky County clerk named Kim Davis declined to issue marriage licenses to same sex couples. I'm sure you saw images of her being hauled off to jail by those who said "she was not above the law."
A few days later she spoke to a large rally, headed up by Mike Huckabee, after she was freed from jail. Gov. Huckabee proclaimed that Davis didn't have to "support a law that was un-Constitutional."
So which is it?  What do we do when God's law and man's law conflict?
First, let's state the obvious positive about God's laws and the increasingly common negative of the lawlessness in our world today.
First the positive truth. God's laws for human living are an expression of his nature, principles, values and justice. In that sense, God's laws are amazingly good. No wonder the longest chapter of the Bible, set in the dead center of the Holy Book, contains 176 verses about the wonder, greatness and beauty of God's law.
Some examples:
How I love you law! It is my meditation all day long" (verse 97).
"How can a young man keep his way pure? By keeping it according to your word" (verse 9).
"Your testimonies are my delight. They are my counselors" (verse 24).
"Great peace have those who love your law; nothing can make them stumble" (verse 165).
Everywhere in Scripture, God's law is viewed as wise, life-giving, and the right thing to do. The only place where law is viewed negatively in the Bible are passages that state that we can't get to heaven by good deeds or obedience to laws (e.g. Galatians 3:1-14).
The problem there is not the law. It is our inability to keep it.
When nations bring God's laws into their cultural norms and standards, those laws bring stability, freedom, order, security and blessing to the people. It's a simple idea: Do things the way the Creator designed and good things result.
Now the negative. I don't think I have to remind you that we live in a time of increasing lawlessness. Jesus Himself predicted it when he said about the end times:
"Then they will deliver you up to tribulation and put you to death, and you will be hated by all nations for my name's sake. And then many will fall away and betray one another and hate one another…and because lawlessness is increased, the love of many will grow cold."
For the past seven years, Exhibit A in American lawlessness has been the Obama Administration.
For much of his term, Barack Obama set a very dangerous precedent by choosing which laws he wanted to  enforce and reject those he didn't. His signature legislation, The Affordable Care Act, was passed through devious and lawless means in Congress. After passage, it was "re-written" by the executive branch over twenty times without bringing in legislative authority.
Our president said he didn't need the lawmakers any more. He had his telephone and his pen.
He also began to dismiss good immigration laws and bring some dubious regulations upon the American people that were enacted in lawless ways. He even refused to enforce the Defense of Marriage Act (DOMA) because he was "evolving" on marriage.
Evolving? No. Deceiving.
Barack Obama has been the most lawless president since Richard Nixon.
On the marriage issue, other leaders in our nation followed suit and went against "the laws of the land." Here is a sampling:
California Lieutenant Gov. Gavin Newsom – In 2004, then-San Francisco Mayor Newsom directed city clerks to issue marriage licenses to same-sex couples. At that time, gay marriage was prohibited in California.
Kentucky Attorney General Jack Conway – Following Kentucky's ban on same-sex marriage, Conway said he would not appeal a ruling to recognize same-sex marriages. In a statement addressing his decision, Conway said defending Kentucky's ban by appealing the case would "be defending discrimination."
Montgomery County (Pa.) Register of Wills D. Bruce Hanes – Two years ago, Hanes issued the first marriage license to a same-sex couple despite Pennsylvania's ban on gay marriage.
Pennsylvania Attorney General Kathleen Kane -Kane declined to defend the state of Pennsylvania when she was listed as a defendant in a 2013 lawsuit filed by the American Civil Liberties Union regarding the state's same-sex marriage ban. She said, "I cannot ethically defend the constitutionality of Pennsylvania's version of DOMA [Defense of Marriage Act] where I believe it to be wholly unconstitutional."
Oregon Attorney General Ellen F. Rosenblum – In 2014, Rosenblum said in a filing that challenged Oregon's ban on same-sex marriage that she wouldn't defend the state's ban.
California Attorney General Kamala Harris – Following legal challenges to California's Proposition 8, which prohibited marriage between same-sex couples, Harris decided not to defend the state law. "I declined to defend Proposition 8 because it violates the Constitution. The Supreme Court has described marriage as a fundamental right 14 times since 1888," Harris said in a 2013 statement. "The time has come for this right to be afforded to every citizen."
Illinois Attorney General Lisa Madigan – Instead of defending state law, Madigan requested the attorney general's office be allowed to join in two lawsuits challenging Illinois's gay marriage ban in 2012.
Former Nevada Attorney General Catherine Cortez Masto – In 2014, Masto argued that due to new court rulings, the "legal landscape" regarding same-sex marriage has "changed," and that the state of Nevada could no longer defend a ban.
And you thought that Kim Davis was only lawbreaker?
Silly you.
No, she was one of the first lawbreakers on God's side of the issue. The other public servants mentioned above also disobeyed the "law of the land"–as did President Obama on many occasions–and none of them went to jail and no one in the liberal media said a peep.
I guess "obeying the law of the land" only applies to Christians–not secularists. When secular officials refuse to obey good laws (such as marriage), they are lauded as heroes. When Christians disobey human laws that contradict God's, they are villains who must be placed in the pokey.
Family Research Council had it right when they reported:
"For an administration synonymous with 'lawlessness,' this sudden call to play by the rules is as comical as it is hypocritical. As columnist Cameron Smith quipped, 'It's nice to see so many Democrats and liberals produce eloquent remarks and social media posts about America being a nation of laws. I knew it was only a matter of time until they came around.'"
"After bypassing Congress on illegal amnesty, ObamaCare subsidies and exemptions, abortion policy, executive appointments, IRS targeting, and religious censorship, who are liberals to lecture about executing the law? Asked about the controversy, the same White House that openly defied the federal marriage statute insisted, 'No public official is above the law.'"
"No one, apparently, except the President."
So what must be our response when God's good laws conflict with man's?
1. We are entering a period when lawlessness will accelerate–so prepare. This refusal to base America's laws on God's tried-and-true statutes will lead to widespread persecution of Christians and an opportunity for us to suffer for our faith.
2. Disciples of Christ must always follow the laws of God first when they conflict with the laws of men. As the early apostles stated, "We must obey God rather than men" (Acts 5:29). Kim Davis did the right thing. So did the early Christians–and they were fed to the lions.
3. We must humbly accept the consequences of civil disobedience to ungodly laws. We resist ungodly authority submissively–not with guns blazing. This was the wisdom of Dr. Martin Luther King during the civil rights era. Be like MLK.
4. Our increasingly secular government (and its laws) should make an accommodation for conscientious objectors–just like we did during the Viet Nam War. On her first day back at work, Kim Davis said with tears, "I am here before you this morning with a seemingly impossible choice, which I do not wish on any of my fellow Americans," she said. "My conscience or my freedom."
Kim was trying to serve both Kentucky and God. With the resounding protection of the First Amendment, those goals should not be mutually exclusive.
Ryan Anderson, a leading voice for traditional marriage wrote in the New York Times, "Some on the Left say that you must do every aspect of your job, despite your beliefs, or resign. But this has never been the practice in the United States. We have a rich history of accommodating conscientious objectors in a variety of settings, including government employees. Do we really want to say that an otherwise competent employee must quit or go to jail if there is another alternative?" When a Muslim flight attendant was suspended for not serving alcohol on a plane, she was not only treated with sympathy and respect — but quickly reinstated. Why the accommodation for her and not Kim Davis?"
Great question.
Wise and just societies don't favor some over others. Lady Justice, especially when it comes to religious rights, is breath-takingly blind.
5.  We must pray and work for unjust laws to be overturned just like the Dred Scott decision on slavery. The price of liberty is eternal vigilance.
When God's law and man's law conflict, be like Kim Davis.
And never stop fighting humbly for the truth.